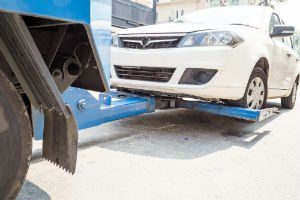 The idea of bankruptcy might be intimidating, but filing can actually help you in a variety of ways. One of the biggest benefits of bankruptcy is the protection it provides regarding your assets. You can use bankruptcy to protect things of value you own that you might otherwise lose if your financial woes continue.
A vehicle is a good example of this, but you shouldn't automatically assume you'll get to keep your vehicle just by filing for bankruptcy. Bankruptcy only truly protects your vehicle and other assets if they are listed properly in your filing documents and if you meet certain obligations regarding the money you owe on those assets.
Chapter 7 vs. Chapter 13 Bankruptcy and Your Vehicle
It's also important to remember that the chapter bankruptcy you choose will affect the protection you receive for your assets, including your vehicle.
If you are filing for Chapter 7 bankruptcy you have several options regarding your vehicle. If you have not fallen behind on payments and you're able to continue making payments during and after your bankruptcy is complete, bankruptcy will have limited bearing on the ownership of your vehicle.
Another option is to reaffirm the debt on your vehicle and continue making payments. You can learn more about reaffirming a debt here.
If you opt for Chapter 13 bankruptcy your vehicle loan will be handled a bit differently. Most people who file for Chapter 13 are able to keep their vehicles and restructure the loan as part of their bankruptcy payment plan. This allows you to catch up on payments you've missed and then continue to pay on your vehicle loan for the three to five year duration of your Chapter 13 plan.
The good news is, regardless of how you choose to handle your vehicle in either chapter bankruptcy, filing initiates an automatic stay.
This means if you're receiving calls from creditors about your vehicle loan or repossession proceedings have begun, you'll get a break. Vehicle loans are secured, so you won't receive an automatic discharge for what you owe. You won't need to worry about anything happening immediately and you can breathe easier knowing that every time your phone rings it won't be someone demanding payment or threatening to take your vehicle from you.
What If You Own the Vehicle Outright and There is No Loan?
In some cases, the person filing for bankruptcy owns their vehicle and has completed any loan payments, assuming there was originally a loan.
Unfortunately, just because you own your vehicle outright doesn't mean it will be automatically protected when you file for bankruptcy. The trustee has the right to liquidate property you own when you file for bankruptcy, so you'll need to take action to prevent this.
However, your vehicle's value will need be within the exemption limits set in bankruptcy laws. If your vehicle exceeds this limit the trustee can sell the vehicle and use the proceeds to repay your creditors.
The value of your vehicle and the amount you owe, as well as your state's specific guidelines and your overall situation all affect whether or not you can protect your vehicle in bankruptcy. Every case is unique, which is one of the reasons it's so important to work with an experienced bankruptcy attorney when filing.
For more information or to learn if you can protect your vehicle when you file for bankruptcy, contact the bankruptcy Law Office of Robert M. Geller at 813.254.5696 to schedule a consultation.