Bankruptcy attorneys help you with your financial problems and ensure you get the best possible outcome from Chapter 7 or 13 bankruptcy proceedings.
Why Is It Necessary To File Bankruptcy?
Filing bankruptcy triggers an automatic stay against all debt collection activities.
It relieves your responsibility to repay all dischargeable debts.
It helps you maintain ownership of exempt property.
Things to keep in mind when Choosing A Bankruptcy Attorney
The experience and expertise of a professional bankruptcy attorney must be taken into account.
Do thorough research on multiple bankruptcy attorneys and compare them to understand which attorney best suits your needs.
Try looking for an attorney with whom you feel comfortable talking about your financial problems.
Select an attorney who knows how to communicate efficiently throughout the process.
It is also important to consider the fee structure of an attorney to make sure they fit into your budget.
Why Rely On The Law Offices Of Robert M. Geller For Bankruptcy?
Our firm offers a free initial consultation.
Our attorneys have relevant experience to handle your case.
Our firm can file your case in less than 24 hours.
Our attorneys regularly attend seminars on consumer bankruptcy to stay current on the law.
How to Choose a Bankruptcy Attorney [Infographic]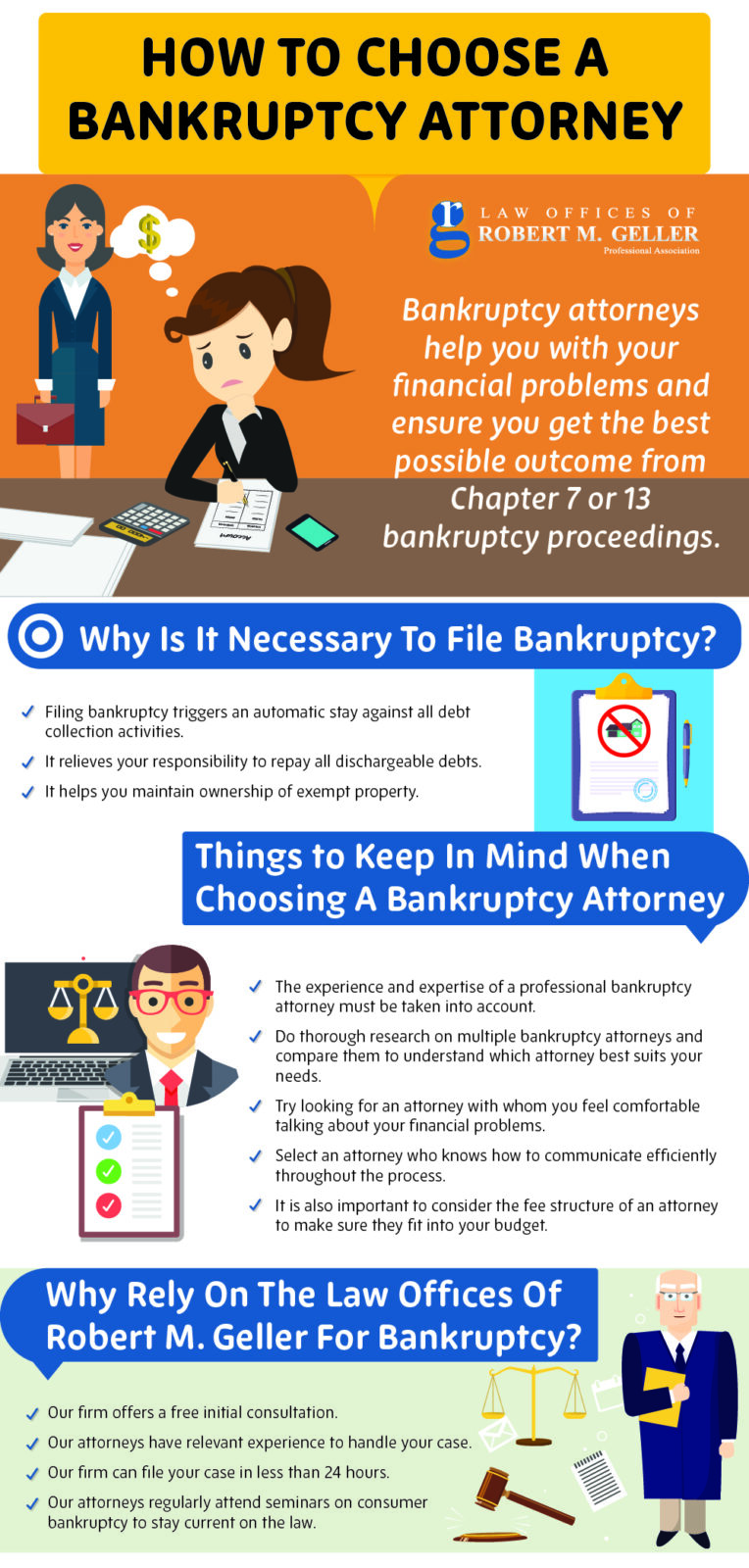 The Law Offices of Robert M. Geller makes it easy!
At the Bankruptcy law firm of Robert M. Geller, our goal is to simplify the bankruptcy filing process as much as possible. We realize that you are seeking our support at a very stressful time in your life and we'll be at your side from beginning to end. For more information or to get started with the bankruptcy filing process, contact the Law Offices of Robert M. Geller at (813) 254-5696 or schedule a bankruptcy consultation.