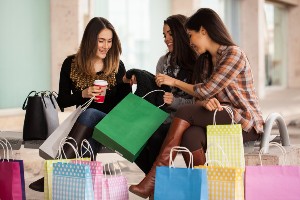 Living beyond one's means is one of the most difficult financial challenges of the modern age. The easy availability of credit and our culture of consumerism encourages people to spend beyond their means. Living beyond one's means is one of the main reasons for filing bankruptcy for credit card debt.
Unfortunately, overspending is one of the most common factors in bankruptcy. Many people find themselves overextended on credit cards. Bankruptcy helps them deal with their situation when they are no longer able to meet their payment obligations.
One of the reasons overspending is such a problem is because so few people understand what it looks like to live within their means. Chances are if you suspect you're overextending yourself you are. A few other signs this might be the case include:
Your credit score has dipped. If your score is below 600, there's a good chance you're having trouble keeping up with payment obligations. Keeping an eye on your credit score is one of the best ways to monitor your financial situation and know whether or not you're living beyond your means. You should review your credit report at least once a year and check in on your credit score more often. This not only ensures you understand the status of your credit, but it also prevents mistakes on your report from causing damage without you realizing it. This is especially important after filing bankruptcy for credit card debt because creditors will look closely at your report.
You aren't able to save or you are saving less than 5 percent of your income. Anyone spending more than they earn is living beyond their means. However, it's not just a matter of not spending more than you make. You also need to be able to afford to save. If every dime of what you earn is going toward expenses and bills, you could be headed toward disaster. Not to mention, a lack of savings puts you at risk for a serious financial emergency.
Your credit card balances are increasing instead of decreasing. If you're only managing to pay the minimum balance due each month, you won't see much change in your balance from month to month. For many people, their balance might increase even if they pay. Too many people get sucked into a cycle of revolving debt and they aren't ever able to get ahead. If you cannot afford to pay off credit card balances each month or you aren't able to pay a significant chunk toward the principal, you're likely in over your head.
You're turning to credit to make ends meet. Initially, your credit cards might have been for occasional indulgences or high-ticket items. Some people keep an emergency credit card they use for unexpected expenses. But if you're paying for essential items with credit cards, you're headed for a serious financial problem. If this is the case, it's likely time to assess your finances and determine where you can cut back. Filing bankruptcy for credit card debt could be in your future.
What to Do If You are Living Beyond Your Means?
If you've assessed your situation and determined that you are living beyond your means, don't despair. There are many steps you can take to improve your situation.
For example:
Look for ways to make lifestyle changes. Eat out less, give up your $5 morning coffee, say "no" to happy hour, and give up subscription services you can live without. Many people can make a vast improvement in their financial situation without drastically altering their lifestyle.
Evaluate your monthly payment obligations and make sure you can afford to make them. If you don't have a budget, now is the time to create one.
Make saving a habit. Set aside 5 percent of your income each month before paying any other bills.
Pay more than the minimum on credit card bills each month. This not only reduces your debt load but also reduces the amount you'll pay overall.
Is Filing Bankruptcy for Credit Card Debt Your Best Option?
If you've extended yourself to the point that none of these changes is possible, it might be time to consider more drastic options. Filing bankruptcy for credit card debt is a viable option for many people who are extended beyond their means.
For more information about how bankruptcy can help you improve your financial situation, contact the Law Office of Robert M. Geller at 813-254-5696 to schedule a consultation.