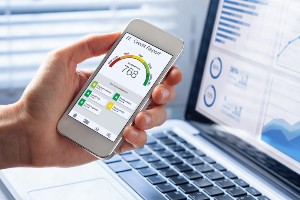 How do you repair this damage and rebuild your credit after filing for bankruptcy?
Many people believe that filing for bankruptcy destroys your credit forever. This is a myth. Bankruptcy affects your credit, but the initial impact doesn't last forever. The damage bankruptcy causes is your "credit rock bottom" and from there you build upward.
Here's how you can rebuild your credit after bankruptcy.
Review Your Credit Report
Your credit report is the key to understanding where you stand. Knowing what's on it and ensuring it is accurate is the first step in improving your situation. Reviewing your report also gives you a foundation on which to build. You're able to monitor changes and see improvement, which is incredibly motivating.
Seeing your credit score improve inspires you to continue making smart choices with credit and build on what you've started.
What should your credit report look like after bankruptcy?
You should see a $0 balance on any accounts discharged in the bankruptcy. Unfortunately, some creditors continue reporting negative information even after a discharge, so you need to take proactive steps to make sure everything is in order. If you see anything that isn't as it should be, you have a right to dispute the mistakes and have them corrected.
To learn more about accounts discharged in bankruptcy and your credit, check out this information from Experian.
Keep Up with Your Payments
Filing for bankruptcy is sometimes viewed as the end of a journey, but it's actually the beginning. Bankruptcy means you've committed to taking control of your financial situation. Bankruptcy is the bridge between an out-of-control credit situation and a fresh start. Part of making that fresh start successfully means meeting any payment obligations you have on time.
Will you have bills due after bankruptcy?
Maybe.
Some debts cannot be discharged in bankruptcy. This includes court-ordered payments like child support, student loan debt, and tax debts. If you've filed for Chapter 13, you'll need to make your repayment plan payments on time. And if you apply and are approved for a new credit card after completing bankruptcy, use it responsibly and pay careful attention to your payment due dates.
Making your debt obligations a priority is one of the most important steps you can take to rebuild your credit.
Use Credit Wisely
Once you've emerged from bankruptcy, you'll need to dip your toes back into the credit pool to rebuild your standing. You do this by using credit.
A lot of people are shy about using credit post-bankruptcy, but you shouldn't be worried. The lessons you learn in bankruptcy help you make smart choices and provide you with the financial skills you need to use credit responsibly.
Start slow with credit and do your research before applying for a credit card. Your options are limited, but that doesn't mean you can't get a secured credit card or loan that lets you work on rebuilding your credit. You might even consider asking someone to co-sign a loan or credit card for you if they are willing. This improves your chances of getting a card with better terms.
Keep your balance on your new credit card low – financial experts recommend keeping your balance to 30 percent or less than the credit limit. Less than 10 percent is ideal.
Don't over-apply for cards because each credit inquiry negatively impacts your credit score. Research the cards available to you and apply for one you're fairly confident you'll receive approval for.
Be patient with the rebuilding process and take things as slowly as needed. It's better to move slowly than to make mistakes that damage your credit score.
If you'd like to know more about rebuilding your credit, we can help. Our 720 Credit Program makes it easier to work on better credit after bankruptcy.
To learn more or to schedule a consultation to discuss your credit situation, contact the Law Office of Robert M. Geller at 813-254-5696 to schedule a free consultation.