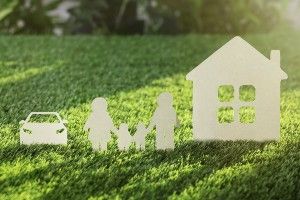 If you're considering bankruptcy, there's a good chance you have a lot of questions. One of the most common concerns when filing for bankruptcy is how doing so will affect your assets.
From your home to your vehicle to your financial savings, bankruptcy can creep into every area of your life. But does bankruptcy affect your life insurance?
Many people choose to invest in life insurance policies because they provide a financial safety net for themselves and their families if anything happens to them. It is an asset and it has value, which means you need to make sure your bankruptcy attorney knows about any and all life insurance policies you have when you file.
It's also important you determine whether the policies you have are term or whole policies and then let your bankruptcy attorney know this information, as well. To learn more about the difference between term and whole life insurance and how that might affect how you deal with it when you file for bankruptcy, check out this information from Policygenius.
Life Insurance Can Be Exempted When You File for Bankruptcy
In most cases, life insurance policies can be exempted when you file for bankruptcy. This means they will be protected from the bankruptcy trustee, but you still need to disclose them on your bankruptcy petition. The court needs to know the asset exists and then your attorney can help you take the appropriate steps to exempt them from your bankruptcy filing.
If you have a whole life insurance policy that has cash value, it's a good idea to confirm that cash value and share that information with your bankruptcy attorney. This way you'll know the entire policy is protected when you file.
Failing to include life insurance policies when you file for bankruptcy could result in the asset not being protected. Worse, it can result in it looking as though you committed bankruptcy fraud and were intentionally trying to deceive the court by hiding the life insurance policy when you filed. This can cause the court to dismiss your entire bankruptcy case.
Protecting Your Family is Important to You
Filing for bankruptcy is a big decision, but it's one that is intended to improve your financial situation. By the time you begin filing, you've already committed to creating a better life for yourself and your family.
And if you're one of the millions of Americans who have invested in life insurance coverage above and beyond what you might receive from an employer, you are well aware of how important it is to protect your family and prepare for emergencies. The last thing you want to do is put this protection at risk when you're trying to do the best thing for those you care about.
The bottom line when it comes to bankruptcy, whether you have life insurance policies or not, is that you need to work with a bankruptcy expert when filing. It's the only way to make sure the process goes as smoothly as possible and that you have the protection you need for your assets. Everyone's situation is unique and you need an expert to review your financial details and make sure your bankruptcy filing is customized to what you need.
For more information or to discuss how working with a bankruptcy attorney can help you when you file, contact the bankruptcy Law Office of Robert M. Geller at 813-254-5696 to discuss your situation.