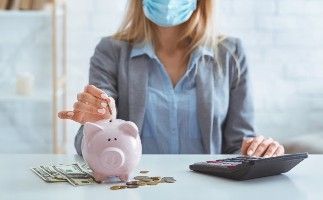 COVID-19 Debt
If you're considering bankruptcy you aren't alone. The last few months of 2020 have brought a great deal of uncertainty, most of it connected to the pandemic. COVID-19 debt is accumulating and more and more people are being affected.
What are five ways the pandemic is driving people to bankruptcy?
1. Loss of Income
Millions of Americans have filed for unemployment since the pandemic began in mid-March. There have been more job losses during this time than there were throughout the last two years total. Complete loss or reduction of income is a serious concern for many and for some, the change has caused serious financial strain. Many people are struggling emotionally to cope with their job loss and others are dealing with the worst financial stress of their lives. If loss of income has pushed you off the financial cliff, bankruptcy might offer relief.
2. Extending Job Searches
It's taking longer than ever to find a job if you are unemployed, which means more people are forced to accumulate COVID-19 debt. There's no denying a job search is always stressful, but job hunters are finding the process excruciating during the pandemic. Competition in the job market is bigger than it's been in a long time and many companies aren't even responding to resumes unless they intend to move forward with the interview process.
The lack of in-person interviewing is also weighing heavily on the job search. Not meeting face-to-face has increased the length of time it takes for a company to make a hiring decision. Some job hunters have reported half a dozen interviews or more before learning one way or the other if they're getting an official offer.
As the days and weeks pass by without a solid lead on employment, many people are turning to bankruptcy as a way to deal with their growing financial burdens. If you'd like to know more about coping with a job search during this stressful time, check out this information from Glass Door.
3. Using Credit to Pay for Essentials
It's no surprise the changes in earnings the pandemic has brought has led to more people turning to credit cards to help with their expenses. When there is no cash available to pay for food and other essential items, plastic is the only option for many. If you must use credit to cover expenses during this time, consider applying for a zero-interest card that will keep your debt as low as possible. But if you've already found yourself in deep with credit or made a bad situation worse since COVID-19 hit, bankruptcy could help you with your situation.
4. Medical Costs
Medical costs related to COVID-19 vary a great deal. Some people stricken with the illness haven't paid a dime because their symptoms are so mild. Others have been forced to spend days or weeks in the hospital receiving care. Those who have lost loved ones to the illness are faced with medical costs and funeral expenses.
There's no denying the pandemic has only worsened the issues that already existed with the cost of medical care and like many who are dealing with significant COVID-19 debt, bankruptcy offers a path out of a dire situation.
5. Triggering Major Life Changes
Many people have found themselves reassessing their situation overall and making significant life changes during the outbreak.
Many people have changed their home selling and buying plans in some way due to the pandemic. Some sped up their timeline, while others have delayed their plans or are now searching for something less expensive than they originally intended to buy. Many renters have realized their situation is less-than-ideal and people from all walks of life have decided to make drastic changes in light of what they've had to endure since the spring.
Having to drastically alter plans or do things you hadn't intended to do six months or a year ago has created a significant amount of COVID-19 debt for many American families. You can read more about how the pandemic has affected home sales and moving here.
A Bankruptcy Lawyer Can Help You with COVID-19 Debt
No matter what life changes COVID-19 has brought your way, bankruptcy might be an option if you are struggling financially. It's not the answer for everyone, but it does offer a fresh start when there are no other solutions in sight.
For more information or to speak to someone about dealing with COVID-19 debt, contact us at the Law Office of Robert M. Geller at 813-254-5696.