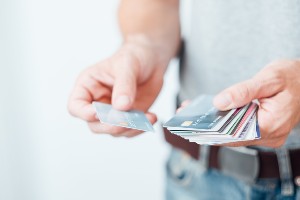 Here's what you need to know about bankruptcy and credit card use to avoid future financial problems.
Filing for bankruptcy has a significant effect on your credit score. Some people say it ruins their credit, but this is misleading.
Most people who opt for bankruptcy already have financial struggles significant enough to severely impact their credit score. Someone with a credit score of 700 or higher is unlikely to even consider bankruptcy. Initially, bankruptcy won't help your credit score, but long-term it'll have a more positive impact on it than letting your ongoing money issues drag your score lower and lower.
For many, filing for bankruptcy is the tool that helped them improve their credit score. One of the keys to ensuring this happens is learning to better manage credit cards once you emerge from bankruptcy.
Credit Cards are Part of the Post-Bankruptcy World
The first thing you need to understand is that bankruptcy doesn't mean you can't ever get a credit card again. Most people begin receiving credit card offers shortly after emerging from bankruptcy. The options available to you aren't as favorable as those available for people with high credit scores, but you will be able to get credit after bankruptcy.
You shouldn't let this tempt you into repeating any old mistakes though.
There are several things you can do to improve your credit score and manage credit responsibly after bankruptcy. For example:
Check your credit report for mistakes at least once a year. You'd be surprised to learn how often errors on credit reports drag down the scores of unknowing consumers.
Monitor your credit score on an ongoing basis. There are online services that allow you to view your credit score as often as you'd like. Checking on it frequently ensures you notice any significant changes and motivates you to keep on track as you see your score slowly creep higher with good decisions.
Make being credit-responsible a habit. This includes paying bills on time every month, reducing your use of credit card spending to only what you can afford to pay off each month, creating an emergency savings account, and being patient.
Apply for a protected credit card. This is a common type of card used by people emerging from bankruptcy. It's similar to a debit card, but it helps you rebuild your credit just like a regular credit card.
Ask someone to co-sign for you, but make sure they have good credit. Sharing debts with someone with good credit gives you a boost.
Consider applying for a credit-builder mortgage.
Ask if you can be an authorized user on a family member or friend's account. Again, make sure they have good credit and that you can trust them to pay their bills on time. If so, their good habits help you.
Perhaps the most important thing you can do as you rebuild your credit after bankruptcy is to be patient. Your bankruptcy remains on your credit report for 10 years, but it's not the only thing that affects your credit score going forward. And if lenders see that since your bankruptcy you've been responsible and met all of your payment obligations, they'll focus more as time passes since your bankruptcy.
Helping You Rebuild Your Credit After Bankruptcy
If you'd like to learn more about restoring your credit after filing for bankruptcy, we offer a course to help you rebuild your score. If you need to speak to someone about filing for bankruptcy, contact the Law Office of Robert M. Geller at 813-254-5696 to schedule a consultation.