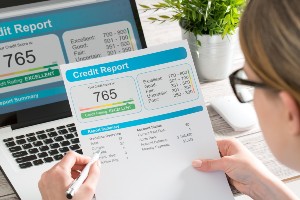 How do you improve your credit score? Here's what you need to know.
Your credit score plays an important role in whether or not you'll be approved for a loan. It also affects the terms of a loan. People with higher credit scores receive better terms, which means it costs less for them to borrow money. Additionally, your credit score might affect your ability to rent an apartment, get certain jobs, or buy auto insurance.
What is your credit score?
It's a number that reflects your overall credit history. It's calculated through a system that takes into account the amount of credit you have available, the payments you've made on time, and how often you use credit.
What's a Good Score?
Credit scores range from 300 to 850. The upper 600-range is considered good. Excellent and exceptional scores are in the 800-range and higher.
These scores are calculated by two major companies: FICO, which is based on the Fair Isaac Corporation's scoring model, and VantageScore Solutions, which is an independent company that owns the intellectual property rights to VantageScore.
You can learn more about the differences between FICO and VantageScores here.
Both systems use an automated process to generate your credit score. It prevents creditors from having to review the details of someone's entire credit report. They can create an automated approval process to extend credit to those in a certain range and deny credit to those who are below that range. It also protects the privacy of a consumer because there's no need to review the details of your credit report. A credit score is a simple way for potential lenders to determine your creditworthiness.
Your credit score changes over time. Many people see fluctuations in their scores from week to week or month to month, depending on the payments they make or the credit they use.
Your credit score is likely to be similar between the credit bureaus as long as there are no errors, but they will differ slightly. FICO offers a specialized scoring system for vehicle loans, mortgages, and credit cards.
There are also updates to the scoring system models, just as you'd see updates with computer software. The goal is to improve the scoring systems over time. For example, the most recent version of FICO scoring makes a distinction between unpaid medical debt and all other types of debts.
How Do You Improve Your Credit Score?
The good news about credit scores is that your actions play a role in its fluctuations. The more positive action you take to improve your score the higher it goes.
Paying your bills on time and keeping your balances low are two of the best things you can do to improve your score. Ideally, your credit card balances will be less than 30 percent of your total credit limit.
It's also important to make sure you use credit. Avoiding credit doesn't improve your score. It's better to use credit responsibly and in ways that allow you to keep accounts current and open. Some people set up a small automated payment on a card so it gets used every month without building a large balance.
Your credit score is an important part of your financial well-being. A good credit score ensures you can get a loan when you need it.
If you'd like to learn more or you need help getting back on track financially, we can help. Contact the Law Office of Robert M. Geller at 813-254-5696 to schedule a free consultation.