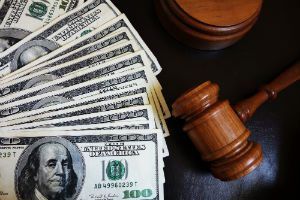 If you've been served with a notice from a creditor that you're being taken to court over a debt, you aren't alone. Being sued for a debt is actually one of the most common reasons people are sued. But as common as it might be, it's still scary when it happens to you.
What does it actually mean to be sued for a debt?
Creditors have a right to take you to court if you owe them money. Chances are they'll try a few other tactics first because court is expensive and time-consuming for them. However, if they exhaust their other options, and your debt is significant enough to make it worth their effort, you can expect to be taken to court.
You'll know legal action has been taken because you'll be served with notice from the court. There might be letters from the debt collector prior to that letting you know legal action is the next step, but the official notice of service lets you know the gears are moving within the legal system and you need to respond.
Failing to respond can make your situation worse – much worse – so if you've been ignoring debt collection efforts up to this point, now is the time to stop hiding from the issue. Not responding to notice of a lawsuit will result in a default judgment against you and will give the debt collector tremendous power within your life.
What Can You Do If You're Sued for a Debt You Can't Afford to Pay?
Being sued for a debt when you know you can't afford to pay it is scary.
The good news is you have options.
If you're past the point of arranging a repayment plan and you're facing serious action, such as wage garnishment or bank account seizure, bankruptcy can help.
Filing for bankruptcy puts an immediate end to collection activity. Once you file, creditors must cease their actions and all effort to collect on debts must end, including foreclosure or any legal action against you.
This gives you time to get a handle on your situation and work with a bankruptcy expert who can help you with the next steps. Essentially, bankruptcy gives you breathing room and while it might not solve all of your problems, it at least gives you time to determine what problems can be solved.
For more information on how filing for bankruptcy puts an end to collection activities, check out this article from Investopedia.
Have You Received Notice You're Being Sued for a Debt?
The first thing you should do is contact an attorney who has experience dealing with debt problems. He or she might be able to help you negotiate a payment plan or work out some kind of arrangement that prevents legal action from moving forward.
If this isn't possible, a debt relief and bankruptcy attorney can help you explore your options and decide if filing for bankruptcy is the right choice for you.
For more information or to speak to someone after you've received notice you're being sued for a debt, contact the Law Office of Robert M. Geller at 813.254.5696 for more information.