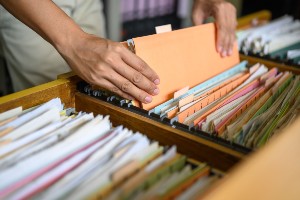 Are you considering filing for bankruptcy? If so, one of the most important steps is to consult with an attorney and share your financial information so they understand your situation. An organized system of financial records provides a basis for a thorough analysis of your situation.
At this initial consultation, the attorney will go over your financial situation and explain your options. To get the most from this meeting, it's important to be prepared and organized.
Below is a list of items that will be helpful for your attorney to review during your consultation. Keep in mind that this list is not exhaustive, but it will give you a starting point.
Proof of income for the past six months
List of all assets, including property, cars, and savings/investments
List of all debts, including credit card bills, student loans, and car payments
Recent bank statements for all checking and savings accounts
A copy of your most recent tax return
Receipts for any major expenses over the past six months (e.g., medical bills, home repairs)
A list of all creditors and the amount of money you owe each one
Your most recent pay stubs
A detailed budget outlining your monthly expenses.
A list of any debts that are not dischargeable in bankruptcy, such as child support payments or taxes owed
Other documents that you think might be relevant to your case
Questions for your attorney
Why is it So Important to Share Your Organized System of Financial Records with Your Bankruptcy Attorney?
When you file for bankruptcy, you must list all of your creditors and the amount of money you owe them. This is called the schedule of assets and liabilities.
To accurately complete your schedules, you must provide your lawyer with all the information relevant to your case. This includes information about your income, expenses, debts, and assets. Failing to provide your lawyer with accurate information can lead to adverse consequences.
For example, if you omit or lie about a debt, the creditor may object to your bankruptcy petition. This could delay or even prevent your bankruptcy from being approved. Furthermore, if the court finds that you provided false information intentionally, you may be subject to criminal penalties.
It is therefore essential that you share accurate and complete information with your bankruptcy lawyer. By doing so, you can ensure that your case is handled efficiently and that you receive the best possible outcome.
Speaking to a Bankruptcy Attorney about Your Financial Situation
By having all of these items ready for your consultation, you can be sure that your attorney has all the information they need to give you the best possible advice about whether or not bankruptcy is right for you and, if so, what type of bankruptcy you should file for.
Is bankruptcy on the horizon? Are you curious if filing could be the answer to your financial problems?
A bankruptcy attorney can help you make this decision. If you're ready to create an organized system of financial records to determine if bankruptcy is right for you, or you want to discuss your situation with an experienced attorney, contact the Law Offices of Robert M. Geller at 813-254-5696.