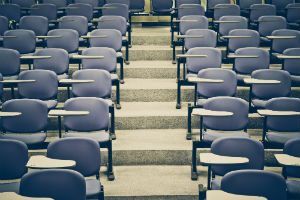 Though it might not happen to the world's most famous universities, there are some colleges that go out of business. They might be purchased by another school or simply close their doors because of their own financial issues or other reasons.
The most frequent colleges to go out of business are career training schools that focus on a particular industry. For instance, in recent years, some information technology schools have closed their doors or been bought out by other schools.
If your college closes, you might be wondering if your student loan will be affected and whether you are still on the hook for what you owe if the school suddenly goes out of business without warning.
Student Loans Might Not Be Discharged in Bankruptcy
In most cases, student loan debt is not discharged in a bankruptcy. There are exceptions, of course, but in general, you should assume that any money you borrow to attend a college or any higher learning institution will be your debt until it is paid off.
However, if you fall into the category of those who attended a college that has now gone out of business, there is a chance your debt will be forgiven through something known as "closed school discharge." Some students can have their student loans discharged in these circumstances.
In order to qualify for discharge of Direct Loans, Federal Family Education Loans (FEEL), or Federal Perkins Loans because of a college closing, the school:
Must close while you're enrolled and affect your ability to complete the program or…
Must close within 120 days after your withdraw
If you've been withdrawn for more than 120 days, you are completing a comparable program at another school, or you've completed the coursework at the closed school, even if you earned no diploma or certificate, you are not eligible for discharge of the loan.
Basically, you need to be a current student or recent graduate to qualify to have your loan discharged.
If you're unsure if you qualify for discharge of a student loan you used to attend a school that closed, the Department of Education has additional information, as well as a list of schools that have recently closed whose students may be eligible for loan forgiveness. You can check out their website here.
Is My Student Loan Eligible for Forgiveness?
In addition to a college closing, there might be other reasons your loan is eligible for forgiveness. There are instances in which bankruptcy courts have discharged student loans and if you believe you might be an exception to the rule, it's important to speak to a bankruptcy attorney. Even if your student loan is not forgiven, bankruptcy might still be a tool that can help you organize your finances and make student loan debt easier to manage.
Student loan debt is one of the primary reasons people opt for bankruptcy, especially in recent years. If you are struggling to make ends meet and cannot meet your student loan obligations, you are not alone.
If you have questions about student loan debt or you are concerned about your situation and not sure where to turn, we can help. Contact the Law Office of Robert M. Geller at 813.254.5696 to learn more or to schedule a consultation.