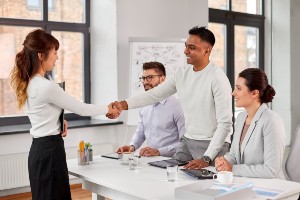 It's common for people considering bankruptcy to wonder how filing affects their job. The answer to this question depends on a few factors, including the type of bankruptcy you file and the laws in your state. The best thing you can do is speak to a bankruptcy or debt defense lawyer.
Generally speaking, if you file for Chapter 7 bankruptcy, also known as liquidation bankruptcy, it won't affect your employer. This is because your assets are sold off to repay your creditors. Your employer is not affected in any way.
However, if you file for Chapter 13 bankruptcy, also known as reorganization bankruptcy, it could affect your employer.
This is because, with this type of bankruptcy, you repay your creditors over time through a repayment plan. If your employer is listed as a creditor in your repayment plan, they may be required to withhold a certain amount of money from your paycheck each month and send it to the bankruptcy trustee.
It's also important to note that even if your employer is not affected by your bankruptcy, you may still face some challenges at work. For example, if you have a security clearance, you may lose it if you file for bankruptcy. And if you work in a profession that requires bonding, like accounting or real estate, getting bonded after bankruptcy might be challenging.
Do I Need to Tell My Employer I Filed for Bankruptcy?
In general, however, there is no legal obligation to disclose your bankruptcy to your employer. And many employers are supportive of employees who go through bankruptcy because they know it's so challenging.
Some employers may even offer financial assistance to employees who are going through bankruptcy. So, if you're worried about how your employer might react, it's worth asking if they have any programs or resources that could help you during this time.
Ultimately, the decision of whether or not to tell your employer about your bankruptcy is up to you. But, if you're concerned about how it might affect your job, the best thing to do is to speak with an experienced bankruptcy or debt defense lawyer who can advise you on your specific situation.
Your Employer WILL Know About Wage Garnishment
Wage garnishment is a legal process whereby your employer must withhold a portion of your wages and send it directly to your creditors. In most cases, wage garnishment is initiated by a court order.
However, there are some instances where wage garnishment can be involuntary. For example, if you owe back taxes or child support, the government may garnish your wages without a court order.
If you're facing wage garnishment, it's important to know that you have rights. For instance, your employer cannot fire you simply because your wages are being garnished. Additionally, you must receive notice before wage garnishment begins.
Keep in mind that issues related to wage garnishment might stay within your company's human resources and/or payroll department. Your immediate supervisor and/or co-workers might not know about the situation.
Speak to a Bankruptcy Debt Defense Lawyer to Learn More
If you're considering bankruptcy, it's important to talk to an experienced bankruptcy attorney who can help you understand how it may affect your job. To learn more, contact the Law Offices of Robert M. Geller at 813-254-5696 to schedule a free consultation with an experienced debt defense lawyer.