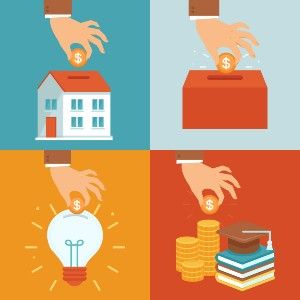 College is one of the most expensive investments you'll ever make. This is especially true if you attend beyond the traditional four years and seek a higher degree.
By the time many people complete their education, they're dealing with tens – if not hundreds – of thousands of dollars in debt. And while it's worth it and can provide an opportunity for higher earnings and career advancement, in the long run, it's just too much for some people. College debt is one of the most common reasons people file for bankruptcy.
In some cases, bankruptcy becomes a necessity before someone finishes his or her education. Even if their student loans are not due to be paid yet, they might have accumulated other types of debt. Though it's more common for older people to file for bankruptcy, there are still those who need to file in their mid-to-late 20s while they are still attending school.
But what happens when debt drives you into bankruptcy, but you're relying on a variety of sources to pay for college?
Does filing for bankruptcy affect financial aid?
Types of Bankruptcy
First and foremost, it's important to understand the different types of individual bankruptcy and what they entail. Chapter 13 bankruptcy is a repayment plan that allows you to retain ownership of your assets and make payments over three to five years on your debt.
Chapter 7 bankruptcy, on the other hand, requires the liquidation of your assets. You give up ownership of your assets in exchange for the discharge of your debt. The funds from your liquidated assets are used to pay your creditors and whatever amount is still owed after that is discharged.
What does this mean for financial aid?
Bankruptcy and Financial Aid
Essentially, bankruptcy has minimal bearing on college financial aid. Money received from the federal government, including Pell grant money, is exempt from bankruptcy. You won't need to worry about losing your federal funding for college if you are forced to file for bankruptcy.
Pell grants are awarded to undergraduate students seeking their bachelor's or professional degree. The money does not need to be repaid, as it would be for federal loans. A Pell grant is just that – a grant. The amount varies based on several factors specific to the individual student and the money is given to the school and then passed on to the student after tuition, fees, and other expenses are taken care of.
Other grants that might be available for undergraduate or graduate students will also likely be exempted from asset seizure in bankruptcy. Grants and loans funded by the federal government are all exempt and the bankruptcy trustee cannot touch them when you file. Scholarship money is also exempt from bankruptcy.
Even if you deposit the money into your personal savings or checking account, it is still off-limits to the bankruptcy trustee and any of your creditors. Money from government-funded student loans and grants are protected from seizure and garnishment or levy.
To learn more about the various types of college funding available, check out this information from Nerd Wallet. Knowing what you have and what types of funds you're using to pay for college is important so you can share that information with your bankruptcy attorney.
Managing Bankruptcy as a College Student
Figuring out how filing for bankruptcy will affect your college tuition situation and determining whether bankruptcy is right for you while attending college can be a difficult decision. Working with an experienced attorney who can explain the benefits and drawbacks of filing can help you make the right decision based on your circumstances.
For more information or to schedule a consultation with an experienced bankruptcy attorney, contact the bankruptcy Law Office of Robert M. Geller at 813-254-5696 to discuss your situation.