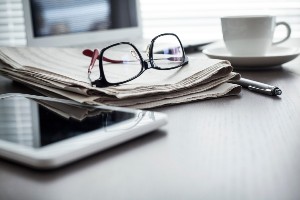 Like most years, bankruptcy was a topic that arose in the news many times throughout 2021. Topics related to money management get a lot of attention, even when people are not personally affected by the issue.
Most people are curious about how businesses and famous people turn to bankruptcy when times are tough. In many cases, these stories normalize bankruptcy for average people. And in other cases, it serves as a reminder that anyone can fall victim to financial challenges, so it's important to do what you can when possible to prevent overextending yourself.
What were some of the biggest bankruptcy-related news stories of the year?
Personal and Business Bankruptcy Filings Decreased in 2021
Perhaps one of the biggest surprises of the year is the fact that bankruptcy cases dropped in an otherwise challenging financial year.
According to the Administrative Office of the US Courts, the number of bankruptcy cases filed this year as compared to last dropped significantly. There's been a steady decline since the COVID-19 pandemic began.
Both business and non-business filings decreased by between 30 and 40 percent.
What's the reason for this somewhat surprising development?
There are several factors in play. Many people received increased government benefits that helped them make ends meet regardless of their personal money management situation. Others were privy to moratoriums on evictions and foreclosures, so they didn't need to take any drastic action to avoid significant creditor actions.
Retail Bankruptcies
Despite the decrease in bankruptcy filings, there were still several retail establishments that chose to file in 2021. The pandemic resulted in consumer habit changes, which in many cases had a profound effect on retail establishments. Even those that didn't file for bankruptcy are still considering restructuring or reorganizing to deal with the new financial challenges.
Some of the retail businesses that filed for bankruptcy this year include:
Alex and Ani
Paper Source
Belk
L'Occitane
Christopher & Banks
Fresh Start through Bankruptcy Act of 2021
One of the biggest bankruptcy stories of the year is still playing out. The FRESH START through Bankruptcy Act of 2021 was introduced in Congress and is the subject of discussion by the Senate Judiciary Committee.
If it passes, the bill would make federal student loans eligible for discharge in bankruptcy after 10 years.
In some cases, higher education institutions with more than a third of their students receiving federal aid would be on the hook for repaying a portion of what students owe when loan default rates are high. The bill would be an alternative to student loan forgiveness, a hotly debated topic among politicians.
It's currently difficult – although not impossible – to discharge federal and private student loans through bankruptcy. Not to mention the money management problems bankruptcy causes in the short term for people who choose to file.
The bill would retain the existing undue hardship option for the discharge of private and federal loans.
Critics of the bill are concerned that it might encourage people to file for bankruptcy when it would be more beneficial to explore other options and avoid the long-term effects of bankruptcy. Advocates claim it's only one of many options to give those struggling with crushing student loan debt a way out of their situation.
Need Help with Money Management in 2021?
If you'd like to discuss your student loan debt options or you have questions about how the bankruptcy news of 2021 might affect you and your money management, we can help. Contact the Law Office of Robert M. Geller at 813-254-5696 to discuss your financial situation.