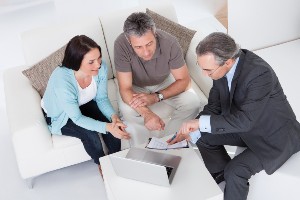 Bankruptcy credit counseling helps you emerge from bankruptcy understanding credit management.
People filing for bankruptcy must take two courses regarding credit and bankruptcy. The bankruptcy court requires these courses before granting the bankruptcy discharge. Your debt obligations stand until you provide proof to the court that you completed bankruptcy credit counseling and your other education obligations.
Both Chapter 7 and Chapter 13 filers must take the courses. The only difference is someone in Chapter 13 has longer to complete the courses.
How do these courses help you and what do you need to know?
Pre-Bankruptcy Credit Counseling Requirement
This course is taken before completing your bankruptcy filing. The overall goal of this course is to ensure you understand bankruptcy and that you truly believe it is the right option for you. It protects you against predatory bankruptcy practices and helps you make an educated decision about filing.
You must take a course approved by the US Trustee's office no more than 180 days before you file. At the end of the course, you receive a certificate of completion that you provide to the court with your bankruptcy paperwork. If you haven't completed the course by the time you file, you'll have 15 days to do so.
The course helps you determine if you really "need" bankruptcy and helps you create a repayment plan for your debt without bankruptcy. Essentially, you're determining in the course if you can afford to deal with your debt without bankruptcy.
Keep in mind, there's no requirement to adhere to the repayment plan the course proposes. You must submit the repayment plan with your bankruptcy documents. However, even if repayment is feasible, you can still file for bankruptcy. You'll likely be encouraged to file for Chapter 13 instead of Chapter 7 and you might only qualify for Chapter 13. However, you receive many of the same benefits with Chapter 13, so don't worry if you're told Chapter 7 isn't an option.
There's usually a reasonable or sliding fee for this course. Your attorney can help you find a course and submit the paperwork when you file for bankruptcy.
Debtor Education Course
The debtor education course is a post-bankruptcy course that helps you complete your case. In this course, you learn tips for creating a budget and rebuilding your credit.
Like the credit counseling course, you must show proof to the court that you completed the course. Proof must be filed within 60 days of your 341 Meeting of Creditors.
This course ensures that you are ready to emerge from bankruptcy and make a fresh start. It's an obligation to complete bankruptcy, but it also provides useful information you can implement in your post-bankruptcy life. Many people find they enjoy this course because it prepares them for what's ahead. Some consider it graduation from bankruptcy and a bridge between their bankruptcy life and their new, empowered approach to managing their finances.
If you're considering bankruptcy but the course requirements are holding you back, we can help. Bankruptcy is a commitment. You must do your part. But in the end, almost everyone is happy they filed for bankruptcy because doing so turned their financial lives around.
You can learn more about what the US Bankruptcy Court has to say about the courses here.
For more information or to speak to someone about filing for bankruptcy, contact the Law Office of Robert M. Geller at 813-254-5696.