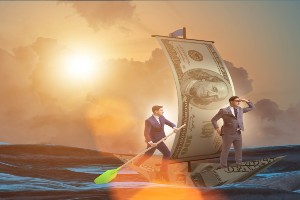 Bankruptcy is a serious financial decision that can have long-lasting effects. This is true even for multi-million dollar businesses. In 2022, many of the world's best-known companies added to bankruptcy stories of their own.
No matter whether you own a business or you're dealing only with your finances, it's important to be informed and understand what bankruptcy means before making this decision. That being said, it can also be helpful to look at stories of other people who have gone through bankruptcy and come out on the other side. Let's take a look at some of the biggest bankruptcy stories from 2022.
JCPenney
JCPenney has been struggling to keep customers and stay competitive with changing consumer tastes, online retailers, and the abrupt end of a partnership.
In November 2020, the US Bankruptcy Court for the Southern District of Texas approved the sale of the retailers to its two largest landlords and its primary lenders.
To combat this issue they made several changes such as remodeling stores, offering new major brands, and upgrading technology for its website experience. Despite the changes, visits to all JCPenney's stores in October decreased by nearly 30 percent this year. Even their web traffic saw minimal growth increasing by 1.26 percent.
The company has closed a third of its nearly 850 stores since 2020. According to the retailer's CEO, JCPenney this move put it on a secure path for the future as a private company and plans to continue to serve our loyal customers.
Golden Corral
The pandemic created a bleak situation for the buffet restaurant. The chain shut down half of its locations throughout the pandemic.
But it seems like they've managed to turn things around in 2022.
There are nearly 400 Golden Corral restaurants in the United States. The state with the most is Texas, which is home to about 14 percent of all Golden Corral stores in the country
Surprisingly the restaurant increased its revenues from last year.
Current rumors of the company's future appear to be based on nothing more than social media chatter.
FTX
It's impossible to have escaped news about FTX in the weeks leading up to the holidays. The crypto company filed for Chapter 11 bankruptcy protection, and FTX indicated that it had more than 100,000 creditors. Financial experts believe that number might be as high as a million creditors.
In most large-scale bankruptcy cases, debtors must provide a list of the names and addresses of the top 20 unsecured creditors, the lawyers said. This could prove difficult for FTX with such a large group of creditors.
FTX's meteoric rise as a crypto trading platform inspired many, with the company valued at $32 billion and boasting over one million users. Unfortunately, its collapse has caused investors to lose confidence in the industry resulting in an exodus of funds from exchanges.
Bankruptcy is never an easy decision but it can be necessary when dealing with extreme financial hardships or situations beyond your control such as illness or job loss. These stories demonstrate how even large companies struggle financially and could benefit from bankruptcy.
It's important to remember that while each situation is unique there are always options available if you find yourself considering filing for bankruptcy protection or restructuring your existing debts. Taking the time to research your options thoroughly will help ensure that you make an informed decision regarding your finances moving forward into 2023 and beyond.
If you are struggling with debt and considering bankruptcy in the New Year, it's important to contact an experienced bankruptcy attorney. For more information, contact the Law Offices of Robert M. Geller at 813-254-5696 to schedule a free consultation with an experienced attorney.