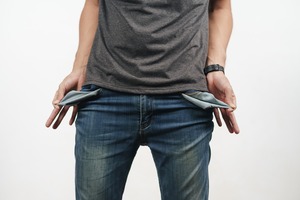 Bankruptcy is a legal solution for people struggling with unmanageable debt. It can be a difficult decision to make. In part, this is because many people are unsure of the consequences of filing for bankruptcy. Many ask "will bankruptcy ruin my life?"
Chances are this isn't the case. Here's what you need to know.
What Does it Mean to File for Bankruptcy?
Filing for bankruptcy is a legal process that allows individuals or businesses to obtain relief from their overwhelming debts. It involves liquidating assets to pay off creditors while also allowing the debtor to keep certain assets that are exempt from liquidation.
Depending on the type of bankruptcy filed (Chapter 7 or Chapter 13), the debtor may be required to repay some or all of the debt over time.
Consequences of Filing for Bankruptcy
Filing for bankruptcy can have long-term consequences for both individuals and businesses.
For individuals, filing for bankruptcy could result in difficulty obtaining credit in the future as lenders may be hesitant to offer loans due to the risk associated with bankruptcy. It also affects one's credit score which could last up to 10 years after filing.
Businesses may face difficulty in obtaining financing or investments due to their previous bankruptcy filing as well as potential reputational damage if customers become aware of their financial situation.
Moving Forward After Bankruptcy
Bankruptcy does not have to mean the end of your financial life. There are steps you can take towards rebuilding your credit score and reestablishing yourself financially after filing for bankruptcy.
Start by creating a budget that works within your means and begins paying down any remaining debt you still have—this will help build your credit score over time.
Additionally, consider setting up automatic payments so that you never miss any payments in the future. This helps improve your credit score going forward.
Lastly, it would be beneficial to look into consumer credit counseling services. This teaches you how best to manage your finances going forward so that you don't fall back into bad habits again in the future. Our program can help you rebuild your credit once you complete the bankruptcy process. We'll discuss the program at your consultation and help you get started once you've reached that point in the process.
Filing for bankruptcy is an intimidating prospect but understanding its implications can help mitigate some of those fears. While there will likely be long-term consequences such as difficulty obtaining financing or lower credit scores, taking proactive steps towards rebuilding one's finances post-bankruptcy can help ensure a brighter financial future going forward.
For more information or to discuss how bankruptcy will affect your life, contact the Law Offices of Robert M. Geller at 813-254-5696 to schedule a free consultation with an experienced attorney.