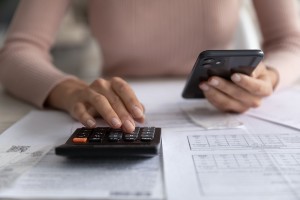 The idea of being trapped in debt can be overwhelming and all-consuming. Financial struggles can happen to anyone through no fault of their own. If you're dealing with financial issues, you might be wondering what's better bankruptcy or debt settlement.
What is Debt Settlement?
Debt settlement involves negotiating with creditors to settle a debt. With debt settlement, the goal is to pay off the debt for less than what you owe. By negotiating with creditors, you can potentially reduce the total amount of debt you owe.
Typically, debt settlement companies offer negotiation services. They'll advertise that you'll be able to pay off your debt for a fraction of what you owe. Here's how debt settlement generally works:
You'll stop making payments to your creditors.
You'll save up money each month until you have enough to settle your debt(s).
Once you have enough money saved, you'll contact your creditors and negotiate a settlement.
Your settlement offer will be accepted or rejected.
If accepted, you'll pay off the agreed-upon amount and the remaining debt will be forgiven.
Debt settlement can be an attractive option for those who are struggling to keep up with making payments to creditors. However, debt settlement can negatively impact your credit score. This is because settling a debt can indicate to lenders that you're a high-risk borrower.
What is Bankruptcy?
Bankruptcy is a legal process where a debtor declares that they cannot repay their debts. Bankruptcy can provide an opportunity to get a fresh start financially. There are two types of bankruptcy: Chapter 7 bankruptcy and Chapter 13 bankruptcy.
Chapter 7 is often referred to as "liquidation" because the debtor's assets are sold to repay creditors. However, certain assets are considered exempt from being sold. If you pass the means test, you can qualify for Chapter 7 bankruptcy. This is for those who have a low income and lack the means to repay their debts.
Chapter 13 bankruptcy is also referred to as a "reorganization" bankruptcy. In this type of bankruptcy, the debtor creates a repayment plan to pay back all or a portion of their creditors over time. Unlike Chapter 7, you don't have to pass the means test to qualify for Chapter 13.
Which is the Better Option?
The answer isn't straightforward, as both options have pros and cons. It also depends on your circumstances.
Debt settlement can be a good option for those who have a small amount of debt and need only one or two debts settled. However, debt settlement can negatively impact your credit score, and there's no guarantee that your creditors will accept the settlement offer.
On the other hand, bankruptcy can provide a fresh start for those who are struggling to pay off their debts. Bankruptcy also damages your credit score, but it can provide a sense of relief and the chance to rebuild your finances. Bankruptcy is often the best option for those with overwhelming debt that will be difficult to pay off.
In the end, the decision between bankruptcy and debt settlement is up to you. However, it's essential to understand your options fully and to seek professional advice before making a choice. Both bankruptcy and debt settlement can offer relief to those dealing with severe financial struggles. But ultimately, it's vital to choose the option that will benefit you and your financial future the most.
For more information, contact the Law Offices of Robert M. Geller at 813-254-5696 to schedule a free consultation with an experienced attorney.