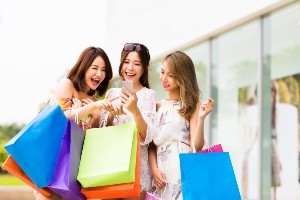 If you've ever gone on a shopping spree in response to stress, you aren't alone. This is different than a spending spree before bankruptcy, which is also a mistake. Emotional spending refers to choices you make with your money that could lead you to bankruptcy. Overspending due to stress, anxiety, in celebration of something special, or for any other emotional reason can be a mistake that costs you far more than what you spend during the spree.
What are three of the most common emotional spending scenarios other than a spending spree before bankruptcy that could be risky financially?
1. Overspending During the Holidays or for Any Special Occasion
It's tempting to load up on gifts for your loved ones around the holidays and use credit cards to pay for those gifts. Unfortunately, this is a risky approach that can cost you a lot in the long run.
First, it's important to understand that most things you pay for with a credit card end up costing you more eventually. It makes sense to take advantage of holiday sales, but you're not saving much if you pay with credit. The interest you pay will likely be at least as much as the discount offered by the retailer.
Second, what happens if an unexpected bill comes up in the New Year and you can't meet your payment obligations for the gifts you purchased? Suddenly you're facing late payment fees and falling into a financial hole that just gets deeper and deeper.
Your loved ones don't expect you to go into debt when shopping for gifts for them. Make it a habit to only pay with cash for holiday gifts and don't get caught up in the marketing of the season or any other occasion. And if you're planning to file after the first of the year, avoid a holiday spending spree before bankruptcy.
2. Treating Yourself
One of the most common emotional spending behaviors is treating yourself to a gift to celebrate something good or make yourself feel better when things aren't going well.
Equating how you feel with your spending and using your spending to manipulate your feelings is a dangerous approach. For some, this behavior is severe enough to develop into a spending addiction. The surge of dopamine you get from spending can overrule logical thinking and result in a lot of financial mistakes.
If you aren't the type of person to treat or console yourself with shopping, it's a habit you want to avoid. If you've already fallen into this trap, find other ways to deal with your emotions that don't involve spending. Never turn to credit when treating yourself. Instead, consider rewarding yourself with an enjoyable experience like a long walk, hot bubble bath, or game night with friends.
It's also important not to view bankruptcy as an opportunity to let loose before tightening your financial belt. A spending spree before bankruptcy can get you into trouble and result in your case getting dismissed.
3. Trying to Keep Up Appearance with Your Peers
It's understandable why you might be tempted to overspend if you're surrounded by people who put a high priority on material success. Nobody wants to feel less successful than their peers. Unfortunately, if you have less to spend than your peers you can wind up with a big problem.
It can help to speak to someone who understands human behavior and emotions linked to spending. Do you struggle with overspending linked to your peers? For most people, there are complicated emotions linked to this type of spending, and understanding your impulses and desires better can help you make better spending decisions.
Avoid a Spending Spree Before Bankruptcy and Other Emotional Spending Triggers
If you've let emotions drive your spending or you're considering a spending spree before bankruptcy to alleviate the stress of having to file, we can help. Contact the Law Office of Robert M. Geller at 813-254-5696 to schedule a free consultation.