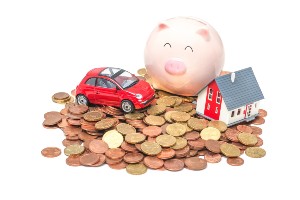 One of the most intimidating aspects of filing for bankruptcy is protecting your assets. Worrying about whether bankruptcy puts their homes or savings at risk prevents some people from filing. Protecting bankruptcy assets is an important consideration when filing. It's one of the reasons why working with an attorney is so important when you file.
Here's what you need to know about protecting bankruptcy assets when you file.
The Problem with Transferring Assets before Filing
One of the most common questions bankruptcy attorneys hear is whether or not it's legal to transfer assets to another person before filing. After all, if your spouse or child or someone else you trust owns the assets, the bankruptcy court won't take it, right?
The problem with this is that the bankruptcy court looks at your recent financial transactions. The bankruptcy trustee can see that you transferred the asset in an attempt to hide it from the court – something not looked kindly upon by the court.
You might think it's a simple way to protect yourself, but it's one of the worst things you can do before filing for bankruptcy. Doing so might be one of the costliest mistakes you ever make. Not only will it result in a potential dismissal of your bankruptcy case, but it's also considered a crime and could land you in jail.
People filing for bankruptcy should not omit assets from their bankruptcy schedules or
Attempt to conceal or transfer non-exempt assets. Even if doing so is unintentional or just an honest mistake, it could still cost you. Once the trustee recovers the asset, you won't be able to claim it as an exemption, even if it would have originally qualified for protection.
How Do You Categorize Your Bankruptcy Assets?
Your state's bankruptcy laws control bankruptcy exemptions and assets that qualify for protection. Some states offer generous exemptions and others aren't as liberal.
Most people, even those relatively familiar with bankruptcy law, need help from an experienced bankruptcy attorney when it comes to determining what types of assets qualify for protection. Even paralegals and legal document preparers find it challenging to properly categorize assets. This is why it's so important to work with an attorney when dealing with bankruptcy assets. You want to make sure you receive all of the protections available. Don't make mistakes that cost yourself more than necessary.
To learn more about how assets are exempted in bankruptcy, check out this information from Nolo.com.
Even Protectable Assets are Governed by Complex Laws
Many people are surprised to learn that filing for bankruptcy doesn't automatically result in the loss of their homes. As a matter of fact, a home is one of the easiest assets to protect when filing for bankruptcy. However, homestead exemptions are complicated and require the careful application of an experienced attorney. Furthermore, protections only apply to your primary residence but can apply to boats or mobile homes if that's where you live.
Working with an attorney ensures you're able to protect your most valuable assets.
It's a major risk to claim the wrong exemption or to misapply exemptions to your assets. This is especially true if you're doing so without an attorney. In addition to putting assets at risk, you're also gambling on facing accusations of fraud.
If you'd like to discuss your options regarding your assets or you're ready to get the filing process started, we can help. Contact the Law Office of Robert M. Geller at 813-254-5696 to schedule a free consultation.