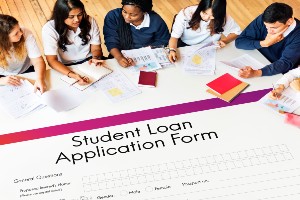 Student loan debt is overwhelming many people. Could refinancing be the answer to help you avoid bankruptcy if your student loans are unaffordable? Does bankruptcy clear student loans or will you be no better off than you are right now after filing?
If you've already filed, but it did very little to ease your student loan burden, is refinancing an option now that it's more difficult to get a loan?
Here's what you need to know.
Refinancing Student Loans Can Save You Money
First and foremost, it's important to understand why you'd want to refinance your student loans.
Refinancing is a tool that helps you save money short-term and long-term. If you refinance to a lower rate, you'll likely pay less interest over time. You might also have the option of switching from a variable rate to a fixed rate, which means you won't need to worry about rate fluctuations in the future. Rates have never been lower than they are right now.
Additionally, consolidating multiple loans into a single loan can reduce how much you owe each month. Not to mention, having one loan instead of two or more is just more organized. And if your original loan had a co-signer who wants out, refinancing helps you take care of this.
But refinancing isn't always the best choice.
Refinancing can remove the protections and benefits outlined in the terms of your original loan.
There has also been talk of the current presidential administration forgiving $10,000 or more in federal student loan debt. Many debtors had the option of pausing their payments during the COVID pandemic. Waiting to refinance allows you to take advantage of the moratorium on payments due. And if your debt will be forgiven, there's no sense in bothering with refinancing. Not to mention that refinancing with a private lender could disqualify you for loan forgiveness.
To learn more about student loan forgiveness, check out this information from the federal government.
Also, keep in mind, not all student loans qualify for refinancing. Before deciding what to do, verify that your loans qualify for refinancing.
When Does It Make Sense to Refinance?
Consider the following when determining whether or not refinancing your student loan is a good option for you:
Do you have a high enough credit score to qualify for a lower rate than you have now? The higher your score the better interest rate you'll get.
Do you currently have a variable-rate loan? Refinancing to a fixed-rate might not lower your rate significantly right now, but it guarantees your rate will remain the same no matter what the future brings.
Do you have multiple loans with multiple payments and you want to combine them? In this case, loan consolidation is likely the better option for you.
Does your original loan have a co-signer who wants to be released from their obligation to your loan? Keep in mind, refinancing might not immediately release the co-signer, so make sure you understand the terms of your new loan.
Are you willing to give up the federal benefits associated with your loan? Federally backed loans offer a variety of benefits, but not all of them are worth the trade-off if you qualify for a significantly lower interest rate.
Is There Anyone Who Should Not Consider Refinancing their Student Loan?
Some people shouldn't bother with refinancing. Unless you understand the benefits of refinancing your specific loan, it's not worth it. You need to recognize how you'll benefit when you refinance, such as money saved from a lower interest rate.
Refinancing also isn't a great option for people struggling to make their payments. It might seem like it's a good solution if your student loans are causing you financial hardship, but this usually isn't the case. You need a good credit score for refinancing to be beneficial and if you've missed payments or you're facing overall financial struggles, chances are your credit has taken a hit.
Furthermore, federal student loans offer a variety of benefits to borrowers experiencing financial hardship. You'll lose these benefits by refinancing under a private loan.
Does Bankruptcy Clear Student Loans?
No. At least not in most cases. If you're considering bankruptcy because of student loans, chances are refinancing or another option will work better.
Bankruptcy does free up money you might be putting toward other debt, which you could use to meet student loan obligations. If you can't pay your student loans because of other dischargeable debts, bankruptcy might be a good option.
Should I Refinance a Student Loan I Can't Discharge in Bankruptcy?
What if you've previously filed for bankruptcy, but you're still dealing with student loan debt because it wasn't discharged? Should you consider refinancing?
Maybe.
Chances are if you have bankruptcy on your credit report, the interest rate you'll be offered in a refinance won't be very low. For most people, sticking with a federal loan keeps them in a better financial situation.
However, everyone's situation is different. Determining specifically what's right for you requires an assessment of your circumstances. If you'd like to discuss your post-bankruptcy loan options with an expert, we can help.
For more information about how bankruptcy affects student loans and refinancing, or to learn more about filing for bankruptcy, contact the Law Office of Robert M. Geller at 813-254-5696 to schedule a free consultation.