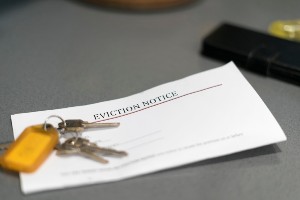 Losing one's home is one of the most common concerns you can have when filing for bankruptcy. A Florida bankruptcy attorney helps people worried about foreclosure that forces them from their homes when they file.
But what about people who rent their homes? What happens if you're renting from a landlord and you file for bankruptcy? Here's what you need to know.
Anyone who has explored the option of filing for bankruptcy knows that doing so triggers a variety of different financial protections. These protections involve income, assets, and other resources and kick in automatically upon filing. The majority of them last for at least the life of the bankruptcy.
Many of these protections apply to assets owned by the file. There are also protections available for renters, including protecting them from eviction. However, it's not guaranteed. Landlords can still evict people who file for bankruptcy under specific circumstances.
Are You Filing for Chapter 7 or Chapter 13?
Much of what a landlord can and cannot do is based on whether a person files for Chapter 7 or Chapter 13.
Chapter 7 results in the discharge of all debts included in the bankruptcy. The court assumes control over the filer's lease. If the bankruptcy trustee determines the rent is unreasonable or unaffordable, termination of the lease might lead to eviction.
Should the trustee determine the tenant can keep the lease, landlords have a right to ask the tenant to prove they can afford future rent payments. If this isn't possible or a renter falls behind on payments despite the proof, landlords can ask the court to terminate the lease and the stay against eviction.
In Chapter 13, the renter retains greater control of the situation. If someone can afford his or her bankruptcy payments, as well as their rent, Chapter 13 might prevent a landlord from evicting a tenant who wishes to continue the lease.
If a Chapter 13 filer is behind on payments when they file, a landlord can request that the claim for back rent be treated as an administrative claim. This ensures money owed to a landlord is granted higher priority than other unsecured claims should Chapter 13 later be converted to a Chapter 7.
The landlord can also ask the bankruptcy court to garnish the debtor's wages. Under the Chapter 13 repayment plan, the trustee can forward money recovered to fund to the landlord. If the debtor fails to keep up with the plan, the landlord can legally evict the tenant.
Bankruptcy Protections
Both Chapter 7 and Chapter 13 activate something known as an automatic stay. This is a court-ordered halting of all debt collection efforts, including eviction proceedings.
The only recourse a landlord has to evict is if they believe the tenant is damaging the property or using it for illegal activity. In this case, they must file a document with the court requesting the right to evict based on these grounds.
Filing for bankruptcy automatically affects a lease. This is true even if you are up-to-date on rent payments and not in violation of the lease in any other way when you file.
There are exceptions to these rules and the laws regarding eviction and bankruptcy vary from state to state. This is another reason why it's so important to work with an attorney. He or she can provide information and access to resources that protect you from homelessness when filing for bankruptcy.
For more information or to schedule a consultation with an experienced Florida bankruptcy attorney, contact the Law Office of Robert M. Geller at 813-254-5696 to discuss your case.