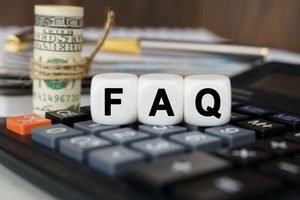 Filing for bankruptcy can seem like a daunting and overwhelming process. However, it doesn't have to be that way. With the proper knowledge and guidance – and answers to several bankruptcy FAQs – you can navigate through the bankruptcy process successfully.
What are some of the most frequently asked bankruptcy FAQs?
What are the different types of bankruptcy?
There are different types of bankruptcy, with the most common being Chapter 7, Chapter 11, and Chapter 13. Chapter 7 is the most popular and is filed by individuals who have little to no assets and can't afford to repay their debts. Chapter 11 is commonly filed by businesses rather than individuals, while Chapter 13 is for those with a steady income who can repay their debts over time.
Will filing for bankruptcy stop creditors from contacting you?
Yes, filing for bankruptcy will stop creditors from calling you, sending you letters, or otherwise harassing you for payment. Once you file, the court will issue a stay order that prohibits creditors from taking any further steps to collect the debt from you.
Will I lose everything I own if I file for bankruptcy?
No, not necessarily. If you file for Chapter 7 bankruptcy, you may lose some of your property, but not everything. The court will exempt certain assets, such as your primary home, car, personal property, and retirement accounts.
Will my credit score be ruined forever if I file for bankruptcy?
No, bankruptcy will not ruin your credit forever. You may see a significant drop in your credit score initially, but rebuilding your credit is possible. After filing for bankruptcy, you can start by getting a secured credit card and paying your bills on time. It'll take time, but maintaining a good credit score over time is achievable.
Can I file for bankruptcy on my own?
Yes, you can file for bankruptcy on your own. However, it's not recommended. It's best to hire an attorney who specializes in bankruptcy laws and regulations to guide you through the process. Bankruptcy laws and regulations vary by state, so it's essential to consult with a legal expert who can advise you according to your state's laws.
Have More Bankruptcy FAQs?
Bankruptcy is not an easy process to go through. Knowing what to expect before and during the process helps alleviate some of the stress. Knowing the answers to a few bankruptcy FAQs is a good start, but it might not be enough.
If you'd like to speak to someone about bankruptcy FAQs or you have specific questions related to your circumstances, we can help. For more information, contact the Law Offices of Robert M. Geller at 813-254-5696 to schedule a free consultation with an experienced attorney.