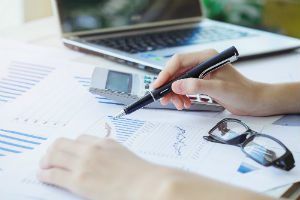 In this day and age, the first place we turn for information is the internet. It's convenient, free, and easy, but it's not always the best place to have your questions answered.
This is often the case with bankruptcy. Though there's a great deal of valuable and factual information online concerning bankruptcy and all the questions that come with it, there is also plenty of false info and plenty of people trying to sway your actions one way or another.
What do you need to know before you hit "search" on the term bankruptcy?
A Little Goes a Long Way
Understanding the basics of filing for bankruptcy is an essential first step in deciding if it could help you. The internet is a great place to get general information about bankruptcy.
If you aren't sure exactly what bankruptcy is or how bankruptcy relates to debt, the internet is a good place to get an overview. You'll learn what the term means and see how other people have used it to alleviate their debt problems.
Your Situation is Unique
Despite the ability to find general information about bankruptcy online, you want to be careful about doing a deep dive. In part because there is misleading information out there, but also because every situation is different.
Your current financial situation is unique to you. No two people and no two debt situations are the same, and this means no two bankruptcies will be the same. Once you have a general understanding of bankruptcy from online research, it's time to contact a professional who can help you assess your specific situation and determine your next best step.
It's OK to think bankruptcy might be the right choice, but to really figure things out you'll need to talk to an expert.
Using information online to make your final decision about bankruptcy can be a mistake because what you read might not apply to your specific situation. Start with general information and then find someone who can help you make the best decision based on your circumstances.
Finding a Bankruptcy Expert Online
One of the best ways to use the internet in relation to bankruptcy is to help you find an expert to help you with filing. You can search for bankruptcy professionals in your area and get a feel for who might be right for you. Many bankruptcy attorneys have websites that outline their experience and areas of expertise.
It's also possible to learn about the experiences others had with various attorneys by searching online. Though online reviews can be misleading, they can also provide a great deal of useful information.
The best way to gather information from online reviews is to look for patterns. If many people who claim to be former clients report the same things, good or bad, there's a better chance the reviews are accurate.
For more tips for choosing a bankruptcy attorney, check out this article from Bankrate.com.
Ultimately, you'll want to decide for yourself who will work best for you, but the information you gather online about bankruptcy attorneys in your local area can help you narrow your list of choices to something manageable.
For more information or to speak to someone about how bankruptcy can help your situation specifically, contact the Law Office of Robert M. Geller at 813.254.5696 for more information.