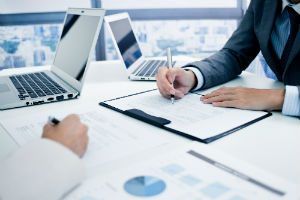 The 341 Meeting of Creditors can be one of the most intimidating aspects of filing for bankruptcy but it doesn't need to be. Preparing for the meeting and knowing what to expect can put you at ease and ensure everything goes smoothly.
What should you do before the meeting to make sure you aren't caught off guard?
The 341 Meeting of Creditors is an opportunity for your creditors to question the dismissal of the debt you owe them. If they believe their debt should not be discharged in your bankruptcy for any reason, this is the time they'll raise their concerns.
In most cases, the meeting will not be held in the courtroom. It's typically conducted in an office or boardroom and it might be attended by just a few people. Your bankruptcy lawyer will accompany you to the meeting and help you with any questions or issues that arise.
The meeting includes a bankruptcy question and answer session about your financial circumstances, your debts, and your reason for filing for bankruptcy. The best way to ensure you are ready to face the questions that arise during the meeting is to speak with your attorney in advance and be open and honest about your financial situation. He or she will be able to anticipate any problems and help you prepare for the questions that might come your way during the meeting.
Who Attends the 341 Meeting of Creditors?
In many cases, creditors don't even bother attending the 341 Meeting. It's possible the only people who will be at your meeting will be you, your attorney, and the bankruptcy trustee. However, if you walk into your meeting and see a creditor or two, don't panic.
In most cases, when a creditor attends a 341 Meeting it's because they have a security interest in an asset or they have concerns about fraud. As long as you've been honest about your situation and you aren't breaking any laws there is nothing to worry about.
To learn more about bankruptcy fraud and how to avoid accusations of committing fraud, check out this information.
The bankruptcy trustee will ask the majority of the questions in the meeting and will serve as a moderator between you and your attorney and the creditors. Don't worry about creditors attacking you or hurling accusations at you during the meeting. The proceedings are professional and nobody is there to attack you personally – they just want to ensure everything is on the up and up and that they get any money to which they are entitled.
What Questions are You Asked during the 341 Meeting of Creditors?
Some of the things you might be asked about during the 341 Meeting include questions about property, especially if ownership has been transferred to someone else in recent months, questions about medical bills, questions about money owed to you, questions about potential income, including inheritance, life insurance, lottery winnings, court settlements, a divorce, or a tax refund.
You might also be asked about your liabilities and assets, including stocks, savings and checking accounts, or certificates of deposits. The goal of the trustee is to ensure he or she has a complete picture of your financial status and that you've been honest about the information included in your bankruptcy filing.
If you have concerns about your 341 Meeting of Creditors or you need assistance filing for bankruptcy, we can help. Contact the Law Office of Robert M. Geller at (813) 254-5696 813.254.5696 to learn more or to schedule a consultation.