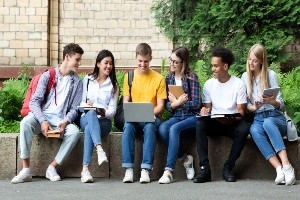 When you're struggling with student loan debt, it's important to seek help from a qualified student loan bankruptcy attorney.
But how do you choose the right one?
Here are five tips to help make the process easier:
1. Do Your Research
It's important to find an attorney who has experience in bankruptcy law and specifically dealing with student loans. This will ensure that they have the knowledge and expertise necessary to help you navigate through the legal process.'
The internet offers many resources for helping you research attorneys.
2. Ask Around
Talk to family and friends for referrals of attorneys they've worked with in the past who may be a good fit for you. There are many different ways to find an attorney, but one of the best is still word of mouth.
It's easier to trust someone when someone you know vouches for them.
Of course, not everyone is comfortable admitting to family and friends they are considering bankruptcy. It might help to ask if they've worked with a lawyer in the past and see what they say. You might get feedback about personal injury attorneys or business lawyers, but you can avoid sharing your financial strife with others.
But if they've filed and they were happy with their bankruptcy attorney, you can find out who they used and contact that person for your case.
3. Get Quotes
Don't just choose the first student loan bankruptcy attorney you come across – get quotes from a few different attorneys to find one that fits your budget.
This can be uncomfortable for people, especially if they haven't worked with an attorney in the past. Talking about money isn't fun and it can feel like an awkward conversation.
But it's important you know what it's going to cost to work with an attorney. The good news is you don't need to worry about good bankruptcy attorneys nickel and diming you when you're filing for bankruptcy. Most of them understand that money is a big issue for you and they'll work with you to make payment as easy as possible.
4. Look for Experience
As mentioned before, it's important to find an attorney with experience in bankruptcy law, especially when dealing with student loans. This will ensure that they have the knowledge and expertise necessary to help you get the best results possible.
5. Read Reviews
Online reviews can be a great resource when looking for a qualified attorney. Read what others have said about the student loan bankruptcy attorney before you commit to moving forward.
Seeking help from a qualified attorney when dealing with student loan debt is an important step in getting your finances back on track. You can make the process easier and find the right attorney for you by using these tips.
Experienced Student Loan Bankruptcy Attorney Can Help You
Are you looking or a student loan bankruptcy attorney? We can help. We've helped many clients recover from the crushing debt that comes with student loans.
For more information contact the Law Offices of Robert M. Geller at 813-254-5696 to schedule a free consultation.