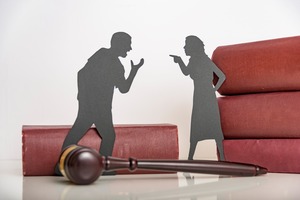 Marriage and finances can be a tricky combination. Timing is also an issue when it comes to filing for bankruptcy. One of the most common questions divorce and bankruptcy attorneys hear is "Should you file bankruptcy before or after divorce?"
Here's what you should know:
Often spouses find themselves facing financial troubles during their marriage. For many, it eventually leads to a divorce.
In such a scenario, it becomes vital to explore your options – filing for bankruptcy and divorce. Both legal issues can create overwhelming stress. When you factor them together, the process becomes even more complicated. Guidance and support from experienced legal professionals are essential during this time.
Filing before Divorce
If you're married and considering bankruptcy, the first thing you should know is that you can file jointly or individually. Joint bankruptcy might help you and your spouse to take care of debt before divorce which can allow you to start post-marital life fresh.
However, it's essential to consider all aspects of your financial life before making a final decision, including how your property and debts can be affected. Filing for bankruptcy before a divorce can make an impact on your spouse's property, income, and even child support/alimony.
For example, if you're filing a joint petition, your bankruptcy can discharge a credit card debt that you shared with your spouse, but it won't discharge any debts that you're solely responsible for.
Filing after Divorce
Filing for bankruptcy after divorce would give each of you a fresh start and a chance to move forward free from the burden of accumulated debts. As an individual debtor, you'll have more control over the bankruptcy process if you file after your divorce, particularly if your spouse is uncooperative.
However, timing is an essential factor that needs to be considered while filing. If the divorce settlement was recent, your settlement can impact your bankruptcy either positively or negatively.
For example, if you're assigned property in the divorce settlement, that property could become a part of your bankruptcy estate.
Property Division
Settlements related to property division may require legal assistance to determine what is and what isn't treated as property. Some assets, like retirement accounts or pensions, can create debt and tax liabilities that may not benefit an individual filer's financial situation. When figuring out when to file for bankruptcy, it's essential to understand how your assets and debts will be divided in the divorce.
The decision to file for bankruptcy before or after divorce can often be difficult. Understanding how each will impact your situation can seem overwhelming. It's important to reach out to an experienced bankruptcy attorney for guidance. They'll help you navigate the legal process and consider all of the various factors.
Your attorney may recommend that you file before or after your divorce, or he or she may suggest waiting until after your divorce is final. Make sure you take the time to consider your financial position and the various factors in your divorce. And always seek professional advice before moving forward.
Understanding all of the legal and financial consequences when contemplating bankruptcy before or after divorce can help you make an informed decision. This makes the process slightly more manageable.
For more information, contact the Law Offices of Robert M. Geller at 813-254-5696 to schedule a free consultation with an experienced attorney.