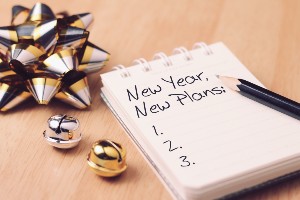 If you're like most Americans, improving your financial situation is on your list of New Year's resolutions for 2022. Whether it's to afford a lavish vacation, invest in the future, or just have more peace of mind, resolutions related to better money management are at the top of many people's list of what's to come in the New Year.
According to Fidelity Investment's financial resolution study, well over half of all Americans intend to improve their financial situation this past year.
That trend is expected to continue in the upcoming year.
What are some of the most popular resolutions related to finances and what can you do to improve your odds of success?
First and foremost, make sure you're setting specific and achievable goals.
Saying you're going to be a millionaire by the end of 2022 when you're currently considering bankruptcy isn't achievable for most people. Intending to pay off $75,000 worth of debt when you're earning $18,000 a year isn't achievable. Setting resolutions like this is setting yourself up for failure.
Instead, you want to take an honest look at your finances and determine what you can do to reasonably improve your financial situation. This doesn't mean your goals can't be ambitious. If you're truly ready to buckle down and change things, the New Year is a great time to do so. It's just important to make sure you can achieve your goals, even if they require hard work and restraint.
What are some of the best financial resolutions to consider for 2022?
Reducing Your Spending and Saving Money
If you're earning money and able to meet your financial obligations with something left over, saving should be one of your main priorities. But for many, there's very little left over after paying the bills. If this sounds familiar, it's a good idea to review your spending habits.
If you're stretched too thin there might be nothing left to save. It might be impossible to reduce your spending because you're spending on only essentials once the bills are paid.
But if there are discretionary expenses you can curb, now is a great time to do it and start putting that money into savings. Savings is an important part of better money management.
If you can, try to save 20 percent or more of what you earn each month. If this isn't possible, start smaller and work on achieving a higher percentage of savings by the end of 2022.
What are you saving for?
This varies from person to person. There is no "wrong" answer. Ideally, you'll save for emergencies first before saving for other things. However, you need to focus on what motivates you to save. The goal is to have money available so you don't need to overextend yourself when you spend.
Pay Off Debt
If saving isn't an option for you because there's little left over after paying your monthly bills, maybe it's time to consider paying down or paying off debt. This is one of the best ways to free up money to save.
Debt isn't always a bad thing. It's not a negative mark against your credit to have a mortgage or student loan. But your ultimate goal should be to eliminate as much of your debt as possible. This is especially true for people who have a lot of high-interest credit card debt.
The best thing you can do if you know that debt is hurting your financial situation is to assess your debts and determine which is the most detrimental. Focus all of your efforts on paying off that debt first, and then if there's more, move on to paying off those debts.
Even if you only manage to reduce a single high-interest debt in 2022, you've succeeded.
Getting Back on Track Financially
Is your financial situation in such disarray that simple financial goals of saving or paying down a few debts are out of reach?
Don't despair.
It's still possible to make 2022 a positive year financially. But it might take more drastic action than just better money management. In some cases, it might even seem worse before it gets better, but that doesn't mean you shouldn't set financial resolutions for the New Year.
If you'd like to discuss improving your financial situation, we can help. Contact the Law Office of Robert M. Geller at 813-254-5696 to schedule a consultation.