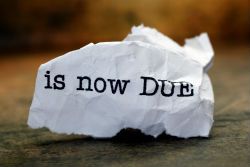 Bankruptcy offers a variety of benefits. One of the most important is the automatic stay.
Bankruptcy's automatic stay stops bill collectors from pursuing you. It stops all collection efforts, including those related to your home mortgage. The automatic stay continues throughout the entirety of your bankruptcy, so once you file, you will no longer be the subject of collection efforts.
The calls stop. The text messages and emails stop. Efforts to seize your property and garnish your wages – it all stops.
The automatic stay is one of the primary reasons people file for bankruptcy. It provides relief from what is likely the greatest financial stress you've experienced in your life. It offers wide-reaching protection from creditors and ensures you can get a handle on your situation and improve your finances without bill collectors breathing down your neck.
This relief is not only an emotional boost, it also gives you the time needed to deal with your financial issues.
Will the Automatic Stay Stop All Collection Efforts?
Yes, the automatic stay prevents creditors from taking any collection efforts against you, at least temporarily.
Filing for bankruptcy means creditors can no longer:
Call you
Initiate new lawsuits against you
Continue lawsuits already in progress
Continue court proceedings already in progress regarding seizure or repossession of property
Garnish wages
Issue tax levies
The automatic stay occurs in both Chapter 7 and Chapter 13 bankruptcy filings. It is intended to provide time to liquidate assets in Chapter 7 and time to create a repayment plan in Chapter 13.
How Long Does the Automatic Stay Last?
The length of the automatic stay depends on the chapter bankruptcy and the decision of the court.
In Chapter 13, the automatic stay remains in place until the end of the repayment plan. In Chapter 7, it's in place until the discharge. So the debt or debt affected by the automatic stay will either be discharged and you'll no longer be responsible for paying that debt, or it will not be discharged and the creditor can begin collection efforts again.
The only exceptions to the protections of the automatic stay in bankruptcy are some tax debts, criminal court case fines, and any money owed related to a family support order – all things debts that are unlikely to be discharged in bankruptcy anyway.
For more information about debts that aren't dischargeable in bankruptcy, check out this information from NOLO.com.
If your bankruptcy case is dismissed, the automatic stay and the protection it provides is no longer valid. Avoiding a revocation of the automatic stay is yet another reason to work with an experienced attorney when filing for bankruptcy.
To learn more about how the automatic stay can help you if you are struggling financially, or if you'd like to discuss the benefits of filing for bankruptcy with an experienced professional, we can help. Contact the Law Office of Robert M. Geller at 813.254.5696 to schedule a no-obligation consultation.