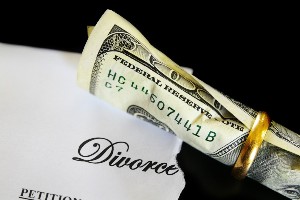 Divorce and bankruptcies are more common than many people realize. Financial problems make a stressful transition even more difficult. If you're considering divorce and have financial problems, you might wonder if you need a bankruptcy attorney.
In many cases, couples struggling with financial issues amid divorce benefit from working with a bankruptcy attorney. Your divorce attorney helps you with a wide variety of issues, but chances are they lack the specific knowledge needed to help you with bankruptcy and other serious financial issues.
How do you know you should consider hiring a bankruptcy attorney during your divorce?
Here are some things to consider if you're struggling with money issues and considering divorce:
Do you have joint debts?
If you and your spouse have any joint debts, such as a mortgage or credit card debt, you'll need to figure out how to handle those debts in the divorce. An experienced bankruptcy attorney can help you negotiate with your spouse about who will be responsible for paying off the debt.
What's your financial situation?
If you have a significant amount of debt, bankruptcy may be a good option to help you get back on your feet financially. A bankruptcy attorney can explain the different types of bankruptcies that are available and help you determine if they would be right for you.
What's the status of your divorce?
If you've already filed for divorce, your bankruptcy attorney can help you protect your assets in the property division process. If you haven't filed for divorce yet, but are considering it, your attorney can help you determine how best to protect your finances in the event of a divorce.
What are your long-term goals?
Your bankruptcy attorney can help you develop a plan to rebuild your credit and financial stability after bankruptcy. If you're also going through a divorce, your attorney can help you figure out how to best protect your assets and finances during the property division process.
Are your finances protected?
Even if you're not interested in pursuing bankruptcy, it's a good idea to consult with a bankruptcy attorney before going through the divorce process. Your attorney can review your assets and help you develop a plan to protect them from being divided by the courts.
Having financial protection in place will ensure that you don't end up with a major financial burden from the divorce.
As you can see, there are many benefits to hiring a bankruptcy attorney if you're going through a divorce. If you have any questions or would like to speak with an experienced bankruptcy attorney, please contact us today.
What Happens If Your Spouse Files Bankruptcy During Your Divorce?
If you're going through a divorce, you may be wondering what would happen if your ex filed for bankruptcy. Here's what you need to know.
If your spouse files for bankruptcy during your divorce, it can complicate matters. For one thing, any joint debts that you both are responsible for will still need to be paid off. This is true even if your spouse is the one filing for bankruptcy.
The bankruptcy will also impact any property settlement that you are negotiating. In some cases, a spouse may file for bankruptcy as a way to avoid paying alimony or child support. If this happens, it can make things more difficult between yourself and your soon-to-be-ex.
Bankruptcy can also complicate the process of dividing your marital assets. If you own any jointly-owned property, it might need to be sold to pay off joint debts. You may have to work out a schedule for how quickly this needs to be done. This way, creditors are paid back fairly and you both have time to find new housing while you sell the property.
It's important to talk to an attorney if your spouse files for bankruptcy during your divorce. They can help you understand how this will impact your case and what options you have moving forward.
To learn more, contact the Law Offices of Robert M. Geller at 813-254-5696 to schedule a free consultation.