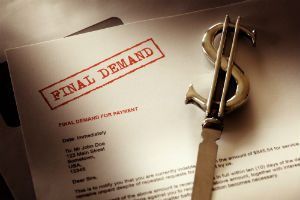 Having a debt be turned over to collections is not the end of the world. Even those who are careful with their finances can have a debt end up in collections. It's hard to predict the future and emergencies arise that affect your finances.
For instance, you might have a medical emergency or lose your job or have any one of the other hundreds of things happen that can unexpectedly affect your financial situation. If this should occur and one or more or your debts ends up in collections, what are five of the most important things you should never do?
Ignore Contact from Creditors and Debt Collectors
As tempting as it might be to ignore any contact from those trying to collect on a debt, it's one of the worst things you can do. Even if a debt isn't legitimately yours, you still cannot ignore attempts to collect on it.
If you ignore debt collector contact, it's possible they'll take legal action against you and be granted the right to put a levy on your accounts, garnish your wages, or put liens on your property. 
Get Aggressive with Collectors
It can be tough not to get frustrated when you're receiving several calls per day demanding payment of a debt. As much as you might want to take your frustration out on those placing the calls, try not to. Don't hang up on them, don't curse at them, and don't lie and pretend to be someone you're not.
Instead, if you don't want calls, tell the collector you don't want to be contacted by phone and follow up your request with a letter to the collection agency.
You're still on the hook for the debt, but the daily phone calls should stop.
For more information on how you can get collectors to stop calling you, check out this article from The Balance.
Create a Payment Plan You Can't Handle
It's possible to create a payment arrangement to take care of a past due debt. However, if you think there's any reason you won't be able to meet your payment obligations you're better off not committing to payments.
You also don't want to agree to pay the debt in full or part unless you have the lump sum of money on hand to do it, as well as the money to pay the tax penalty you'll face for settling a debt.
In either case, setting up a payment arrangement only to have to back out on it tends to make debt collectors more aggressive.
Give Collectors Automatic Draft Access or Automatic Payment Permission
Never give debt collectors direct access to your account. Most won't take advantage of it, but some will and it's impossible to know which can be trusted prior to setting up the arrangement.
Granting automatic draft or payment access is giving permission to a debt collector write a blank check off your account. Instead, agree to authorize a one-time payment or meet a payment date on your own each month, even if the collector makes promises about convenience or saving you money.
Give Collectors Information about Your Income or Assets
Finally, you want to avoid is telling a debt collector – someone who will stop at just about nothing to take your money in repayment of the money you owe them – about your financial situation. Don't tell them about your income or your assets. Not only could it give them a reason to pursue you relentlessly, it can also give them ammunition to use against you in court.
No matter what you're asked by a debt collector, you don't need to share information with them about your wages, your home, your vehicle, your other financial obligations, or anything else about your finances. You'll need to share this information with the bankruptcy court should you decide to file, but you don't need to tell a debt collector directly.
Figuring out what to do when a debt is put into collections can be a challenge. This is especially true when it feels as if creditors are breathing down your next.
For more information on how to handle a debt in collections, or to discuss your situation, contact the Law Office of Robert M. Geller at 813.254.5696 to schedule a consultation to discuss your case.