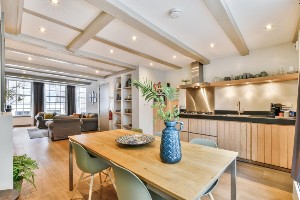 Can you file bankruptcy and keep your home?
Absolutely.
If you're considering filing for bankruptcy, there's a lot of information to digest. One of the most important things to know about bankruptcy though is that filing doesn't automatically mean losing your home.
How do you know if you'll be able to keep your home if you file for bankruptcy?
There are several factors you'll need to consider if you want to file for bankruptcy and keep your home.
For instance:
The property must have been owned by you or your spouse for at least one year before the bankruptcy filing date.
You must not have intentionally defaced or destroyed property as a form of protest against creditors, and you must have been in full compliance with your mortgage payments at the time of the filing.
The property value may not exceed certain limits based on where you live.
These things limit the trustee's ability to seize and sell your home. You and your attorney can discuss the various factors affecting foreclosure and home seizure before you file. This way you'll understand what to expect and what you need to do to ensure the greatest level of protection for your home and all of your property.
If you do not meet the above-listed requirements, retaining ownership of your home is at risk. There might still be ways to protect your home and continue living in it, but the process will be more challenging.
There are also situations in which the bankruptcy court determines if you'll keep your home. This all depends on timing. The longer you wait to take action, the less control you have over your situation. If you wait too long, what happens to your home will be in the hands of the court and the bankruptcy trustee.
Bankruptcy Can Protect Your Home and Other Assets
The bankruptcy court provides the ability to exempt assets when you file.
Exempt assets will not be included in the bankruptcy estate and therefore won't be liquidated by the trustee to pay creditors after the filing. There are limits regarding the value of assets you can exempt. You and your attorney will discuss what to protect and how to protect it.
Even if it's not possible to protect all of your assets, it might be possible to file a motion with the court requesting an exemption. Your attorney can assist you in determining whether there are options for exemptions in your particular case.
Can You File for Bankruptcy and Keep Your Home?
Yes.
But it will take guidance from an experienced attorney.
While it may seem like the end of the world if you're considering filing for bankruptcy, remember that there are steps you can take to protect your home and belongings. If you'd like to learn more about how bankruptcy might affect your property or other assets, contact the Law Offices of Robert M. Geller at 813-254-5696.