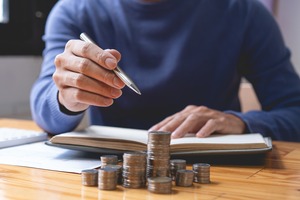 Bankruptcy is a serious decision and has major consequences on your credit as well as your overall financial situation. If you're considering filing for bankruptcy, it's important to understand all the details of the process. This includes what will happen to any money you have in the bank.
What should you know before filing for bankruptcy if you have money in the bank?
What Happens When You File for Bankruptcy?
When you file for bankruptcy, all of your assets become part of the bankruptcy estate. This means that all of your assets, including cash in savings and checking accounts, are subject to distribution among your creditors.
However, this doesn't mean that all or even most of this money will be taken away. State laws protect certain assets from being liquidated during a bankruptcy case. In some cases, this can include all or most of the money in your bank accounts.
Keep in mind that while some states offer protection against liquidation up to a certain amount, this is not universal across all states. Additionally, if you have more money than allowed by law in either one account or combined across multiple accounts, you might need to transfer funds out of those accounts before filing.
Make sure you review your information with an attorney before transferring or moving money around before filing for bankruptcy.
What Are Exemptions?
Exemptions are legal protections given by states to certain types of property and assets during bankruptcy proceedings. These exemptions allow people filing for bankruptcy to keep certain assets out of their estate during proceedings and prevent them from being seized by creditors or sold off as part of repayment plans.
Each state has different exemption rules regulating which assets are protected and how much is exempt. These exemptions vary greatly between states and can even change over time depending on economic conditions or changes made within the legislature. Nolo offers information about Florida's bankruptcy exemptions.
Additionally, these exemptions may be limited further. It depends on whether an individual is filing as a single or joint filer since joint filers often get twice the amount per exemption than single filers do.
It's important to note which exemptions are available in each state. Do this before deciding whether or not to pursue bankruptcy. This way, you'll understand exactly what will happen with any money currently held in savings accounts.
Knowing whether or not you will lose access to any funds held in savings accounts when filing is essential information.  While each state has different rules governing asset protections during bankruptcies. Also, keep in mind that these exemptions can change over time. This is one of the reasons it's so important to work with an experienced bankruptcy attorney. They're up-to-date on the latest bankruptcy information and can help you determine how your state's laws apply to your specific situation.
For more information or to schedule a consultation to discuss your financial situation, contact the Law Offices of Robert M. Geller at 813-254-5696 to schedule a free consultation with an experienced attorney.