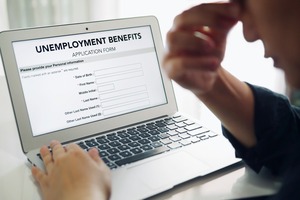 If you're considering filing for bankruptcy due to financial hardship, it can be helpful to understand the various options available. One question that often comes up is whether or not you are eligible to file for bankruptcy if your main source of income is unemployment benefits.
The answer is yes. You can file for bankruptcy even if your only income is unemployment benefits. However, there are a few important things to consider before doing so.
Let's take a closer look at how filing for bankruptcy and receiving unemployment benefits intersect.
What You Need To Know Before Filing for Bankruptcy with Unemployment Benefits
The first step in determining whether or not you should file for bankruptcy with unemployment benefits as your primary source of income is to understand the types of debts that you have. If you have primarily consumer debt like credit cards, medical bills, and personal loans then filing for Chapter 7 or Chapter 13 bankruptcy may be an option.
On the other hand, if most of your debt consists of secured debt such as a mortgage or car loan then filing for Chapter 7 may not be an option as these debts cannot be discharged in this type of filing.
The second thing to keep in mind is that the court takes into account all of your assets when determining eligibility for either Chapter 7 or Chapter 13 bankruptcy. This includes any assets eligible for liquidation to pay off creditors such as:
Vehicles
Jewelry
Artwork, etc.
It also includes any cash reserves that you may have saved up over time including savings accounts and some retirement account funds. Any funds from these accounts may need to be used towards paying off creditors under certain circumstances so it's important to take this into account before deciding which type of bankruptcy would best suit your situation.
Should You File for Bankruptcy?
Before filing, consider all of the factors related to your situation. Your income amount and source aren't the only reasons you might choose to file or not file.
For example, it's important to note that bankruptcy remains on your credit report for up to 10 years in most cases. It depends on what chapter you choose. In many cases, bankruptcy negatively impacts your ability to obtain future credit or financing in the future. Therefore it's important to weigh the pros and cons carefully before deciding whether or not this is the right move for you financially speaking.
In conclusion, while it is possible to file for bankruptcy with only unemployment benefits as your primary source of income several factors should be taken into account before deciding what type of filing would best suit your particular situation. It's always advisable to speak with an attorney who specializes in bankruptcy law before moving forward with any legal action. They can provide guidance and advice so you'll know how to proceed based on your specific circumstances.
For more information, contact the Law Offices of Robert M. Geller at 813-254-5696 to schedule a free consultation with an experienced attorney.