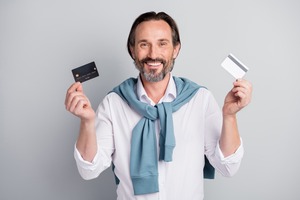 The decision to file for bankruptcy is never easy. People considering this option often struggle with financial stress, debts, and the fear of losing their assets. One of the most common questions they ask is "Can I keep one credit card during bankruptcy?"
Here's what you need to know.
Types of Bankruptcy
First, it's important to understand that there are two main types of bankruptcy for individuals: Chapter 7 and Chapter 13. Each type has different rules and consequences regarding credit cards.
In Chapter 7, the debtor's non-exempt assets are sold to repay creditors, and most of their debts are discharged.
In Chapter 13, the debtor enters a repayment plan to pay back a portion or all of their debts over three to five years.
Exemptions
Second, the Bankruptcy Code allows debtors to keep certain things exempt from seizure to facilitate their fresh start after bankruptcy.
In other words, you may be able to keep some of your assets, including one credit card, depending on the state where you file and the amount of the exemption.
Personal Considerations
Third, even if you are allowed to keep one credit card during bankruptcy, that doesn't mean you should or that it's a good idea. One reason is that the credit card company may close your account or reduce your credit limit if they learn you've filed for bankruptcy. They might also charge you higher interest rates and fees because you have a higher risk of default.
Additionally, using your credit card after bankruptcy can undermine the effectiveness of your fresh start and lead to a new cycle of debt.
Reporting
Fourth, if you keep one credit card during bankruptcy, you must disclose it on your bankruptcy forms and schedules. Failure to do so is considered fraudulent concealment and can affect your discharge, your case's dismissal, and even result in criminal prosecution. Therefore, it's essential to consult with an experienced bankruptcy attorney to make sure you're complying with all the legal requirements and avoiding any pitfalls.
Alternatives to Keeping a Card
Fifth, there may be alternatives to keeping one credit card during bankruptcy, such as obtaining a secured credit card or a prepaid debit c or using cash or debit cards for your purchases. These options may help you rebuild your credit and financial habits after bankruptcy without risking further debt or legal problems.
So, can you keep one credit card during bankruptcy?
The simplest answer is, "It depends."
While some debtors may be eligible to keep one credit card under certain conditions, it's not always advisable or feasible. Before making any decisions about your credit cards during bankruptcy, you should consult with a bankruptcy attorney who can guide you through the process and help you achieve the best possible outcome for your financial situation.
Remember that bankruptcy is not the end of the world but rather a new beginning, and you can rebuild your credit and your life with the right guidance and diligence. For more information, contact the Law Offices of Robert M. Geller at 813-254-5696 to schedule a free consultation with an experienced attorney.