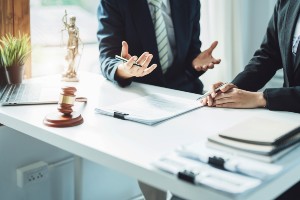 Filing for bankruptcy can be overwhelming. Your bankruptcy attorney plays a crucial role in navigating you through the process. Unfortunately, there there are instances where you might not be satisfied with your attorney's services. As a client, you might wonder if you can fire your bankruptcy attorney.
Here's what you need to know.
Valid Reasons to Fire Your Attorney
Lack of communication: You might be dealing with a bankruptcy attorney who is hard to reach or responsive, does not listen to you, or does not keep you informed of the proceedings in your case.
Lack of experience: You might have chosen a bankruptcy attorney who is not well-versed in bankruptcy law or who lacks sufficient expertise in your specific bankruptcy case. Do your best to check into this ahead of time.
Ethical concerns: You might have concerns about your attorney's professional conduct or behavior, such as a conflict of interest, a breach of client confidentiality, or malpractice.
Personal reasons: You might not feel comfortable or compatible with your attorney, or there might be a personality clash that is affecting their ability to represent you.
Steps to Take If You Want to Change Attorneys
Communicate with Your Current Attorney First
If you decide to fire your bankruptcy attorney, the first step is to communicate your concerns with them. Try to resolve any issues or misunderstandings before considering switching attorneys.
Search for a New Attorney
Once you have decided to switch attorneys, begin your search for a new bankruptcy attorney. Look for an attorney with experience, expertise, and positive reviews from other clients.
Notify Your Current Attorney
Once you have found a new bankruptcy attorney, notify your current attorney that you are switching attorneys. You and your new attorney will have to coordinate with your old bankruptcy attorney to obtain your case file and any relevant information.
Your new attorney can help you with the transition, if necessary.
Firing your bankruptcy attorney is a big decision that can significantly impact the outcome of your bankruptcy case. Before you decide to switch attorneys, communicate your concerns with your current attorney and try to resolve any issues. If you decide to switch attorneys, ensure that you find an experienced and professional attorney who can represent you effectively.
If you've begun the bankruptcy process and you aren't happy with your attorney, we can help. For more information, contact the Law Offices of Robert M. Geller at 813-254-5696 to schedule a free consultation to discuss your situation.