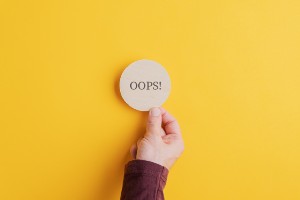 Bankruptcy is a complicated process because it involves many different aspects of the law. It can be difficult to understand all of the legal jargon and terminology associated with bankruptcy. Misunderstandings can lead to bankruptcy mistakes. This is why it is important to consult with an experienced bankruptcy attorney.
Types of Bankruptcy
There are two main types of bankruptcies that individuals can file for: Chapter 7 and Chapter 13.
People unable to pay any of their debt usually choose Chapter 7. In a Chapter 7 bankruptcy, the individual's assets are sold to repay creditors.
People with regular income who can repay some of their debt usually opt for Chapter 13. In Chapter 13, the individual's assets are not sold, but the individual is required to make monthly payments to a trustee. The trustee then uses the payments to repay creditors.
Bankruptcy can be a complicated process. Mistakes are common. What are five of the most frequent mistakes people make when filing for bankruptcy?
1. Not Hiring a Bankruptcy Attorney
When you're deep in debt, the thought of hiring a lawyer may seem like an unnecessary expense.
However, if you want to give yourself the best chance of getting a fresh start financially, hiring an experienced bankruptcy attorney is essential. The bankruptcy process is complex and there are many ways to make mistakes that can cost you dearly down the road.
An experienced bankruptcy attorney will help you navigate the process and protect your rights.
2. Not Disclosing All of Your Assets
When you file for bankruptcy, you must disclose all of your assets, including bank accounts, investments, and property. Your case could be dismissed or you could be charged with perjury if you don't.
3. Not Understanding the Difference Between Secured and Unsecured Debt
Secured debt is debt that's backed by collateral, such as a home or car loan. Unsecured debt is not backed by collateral and includes credit card debt and medical bills.
It's important to understand the difference between the two types of debt because they're treated differently in bankruptcy. Filing without understanding which of your debts is dischargeable is one of the most common bankruptcy mistakes. In these cases bankruptcy fails to accomplish financial goals.
4. Incurring More Debt Before Filing for Bankruptcy
If you're considering filing for bankruptcy, it's important to stop using your credit cards and incurring more debt. If you continue to use your credit cards and rack up more debt, the court may consider this to be fraud and dismiss your bankruptcy case.
5. Not Taking Advantage of All the Bankruptcy Exemptions
You can only keep certain assets when you file for bankruptcy. Exempted assets vary from state to state. If you don't take advantage of all the exemptions available to you, you may end up losing property that you could have kept.
Filing for bankruptcy is a big decision and it's important to do it right. If you make any of the mistakes listed above, you could end up costing yourself a lot of money and set back your financial recovery.
If you're considering filing for bankruptcy, contact experienced attorney to help you avoid bankruptcy mistakes. To learn more, contact the Law Offices of Robert M. Geller at 813-254-5696 to schedule a free consultation.