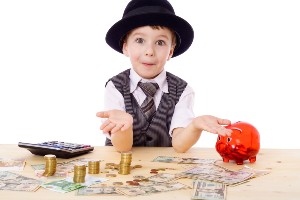 If you're like most parents, one of your primary concerns is teaching your kids good money management. Many of the adults who file bankruptcy in Florida believe their financial struggles would have been avoidable had they learned how to budget when they were young.
Here are a few things you can do to teach your children how to budget and understand how to make the most of their income.
Get Your Child a Bank Account
Children don't need bank accounts, but they can benefit a great deal from having one. Opening an account provide an opportunity for your child to learn how banking works from an early age. Choose a bank that offers checking and savings accounts, and provides a debit card when you open the account. Also, look for benefits like free checking that you'd consider when opening an account for yourself.
Opening a bank account for your child lets them learn to balance a checkbook, understanding how to track their spending, and learn about the advantages and disadvantages of depositing their money in the bank.
If your child is older, you can involve them in the "shopping" process for the best account. Younger children can accompany you to deposit and/or withdraw cash from an established account. Regardless of age, the goal is to help children understand how banking works and how a bank account can help them manage their money.
Set Up an Emergency Savings
Chances are, if your child encounters a serious emergency, you'll step in and handle the financial aspects of it. However, this doesn't mean you shouldn't help your child prepare for this situation.
You can help your child understand the importance of having emergency reserve savings by encouraging them to save and use that savings to deal with something they consider an emergency. For example, if a toy or electronic device breaks, they'll need to use their emergency reserve savings to pay to replace it.
Understanding budgeting at a young age is a great way to reduce your child's risk of filing for bankruptcy in Florida once they're grown.
Teach Them About Credit
Older kids should understand credit and credit scores. Even if you're reluctant to get your teenager a credit card, there are ways they can learn about how to establish and maintain good credit.
A few lessons to cover when going over credit basics include:
Interest rates
On-time payments
Credit reporting agencies
Consequences of neglecting payment obligations
Pros and cons of buying things on credit
If you're sending a child off to college in the fall, it's especially important to cover issues related to credit. Credit card companies sometimes target new college students. If your new freshman isn't prepared, they could end up in a dicey financial situation.
Before your child leaves for college, go over the different types of credit cards out there and why it might be wise or unwise to sign up for one. At the very least, explain to your child why they should take applying for a credit card seriously. All too often, people of all ages are tempted by credit card offers. They get lured into spending that causes long-term damage before they even know what they're doing.
If your child has gotten into financial straits, we can help. Many people considering bankruptcy in Florida made mistakes when they were young and they're facing tough choices now. Contact the Law Office of Robert M. Geller at 813-254-5696 to schedule a free consultation.