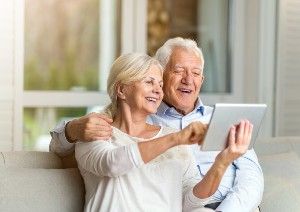 Bankruptcy for Seniors
Facing bankruptcy at any age is tough, but bankruptcy for seniors is especially difficult. When you're relying on a fixed income and lack the ability and/or desire to return to the workforce, debt is challenging. This is especially true if something unexpected happens, such as a medical emergency or other significant life change occurs. These things are likelier as you get older, creating a "perfect storm" of financial turmoil. For many, the solution is to file for bankruptcy.
What should seniors know if they are considering filing for bankruptcy?
Is Bankruptcy Your Best Option?
The first thing for seniors considering bankruptcy to consider is whether or not filing is necessary. Bankruptcy isn't always the only option for dealing with financial problems. In many cases, you can negotiate payment arrangements or use financial tools available to seniors, such as a reverse mortgage. Like bankruptcy, these options aren't right for everyone, but it's important to assess your situation and choose what's best for you.
It's also important to assess your risk. In many cases, bankruptcy isn't necessary because there's such limited risk. People file for bankruptcy because they are at risk of losing something valuable.
Many seniors have pared down to the point that this is no longer a risk for them. A creditor cannot take any of your basic necessities and cannot touch your Social Security income. Seniors with limited income and limited assets are "judgment proof," which means bankruptcy isn't worth the investment of your time or money. Filing stops creditor harassment, but there are other ways of dealing with that if it's your only concern.
The same is true for seniors who have a lot of assets they want to protect. Filing for bankruptcy, especially chapter 7, puts some assets at risk. If you've spent a lifetime accumulating assets, you risk losing them if you file. Chapter 13 might help protect your assets, but you need enough liquidity to afford the monthly payments, which are high when you're protecting a lot of assets.
The best thing you can do is speak to a bankruptcy attorney about your specific situation. Many of the usual bankruptcy guidelines don't apply to seniors, so it helps to have someone assess your circumstances and help you make the best decision possible.
Could Bankruptcy Be the Solution for You?
Although you'll want to speak to someone about your specific circumstances, it helps to have a general idea of when bankruptcy might work for you. If you are a senior with the following circumstances, bankruptcy might be worth pursuing:
You have many dischargeable debts
You need to catch up on mortgage or auto loan payments
You're eligible to exempt most or all of your property
Any property seized by the bankruptcy trustee is worth the trade-off for the benefits of bankruptcy
Your income is low enough to pass the Means Test and file for chapter 7
Your debt is mostly related to medical bills or credit card debt
One of the most important considerations for seniors considering bankruptcy is their home equity. Many have lived in their homes for decades and have a great deal of equity built up. Since you're limited as to how much equity you can protect in certain situations, it might be better to avoid bankruptcy. You'll put that equity at risk and in the long run, could end up with a worse financial situation than you currently face. The good news is significant equity gives you other options that might be more beneficial than bankruptcy.
Also, keep in mind that retirement funds cannot be protected by bankruptcy once they've been withdrawn. Make sure you speak to a bankruptcy expert before pulling any money from your retirement savings because you could be putting it unnecessarily at risk.
If you'd like to know more about the benefits of filing for bankruptcy after retirement or you're a senior wondering if bankruptcy is right for you, contact the Law Office of Robert M. Geller at 813-254-5696 to schedule a free consultation.