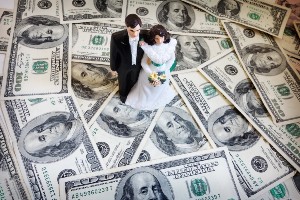 If you're married and your spouse has a lot of debt, you may be wondering if that debt can force you into bankruptcy. Am I responsible for my spouse's debt in Florida?
The answer is maybe.
Florida is an equitable distribution state. This means that property, assets, and debt are distributed fairly during a divorce. Fair does not mean a 50/50 split. The type of debt determines how the court deals with debt in marriage and divorce. Three types of debt include:
Premarital Debt
This is debt that you or your spouse accumulates before your marriage. It's only in your name or their name.
In Florida, as long as you have never used the credit card, you're not responsible for your spouse's credit cards.
Non-Marital Debt
This is debt in only one spouse's name that is not paid with marital funds.
For example, if you have a business credit or business loan in your name or business's name, your spouse is not responsible for that debt, even if you acquired it after the marriage.
Marital Debt
These are joint credit cards, mortgage loans, and car loans that are in both your name and your spouse's name.
According to Florida law, both spouse are responsible for this type of debt. There are exceptions, but in general, if a debt is shared during the marriage it will be shared in the divorce.
You can learn more about joint debt here.
If you're not legally responsible for your spouse's debt, then it can't force you into bankruptcy.
However, if you are legally responsible for the debt (for example, if you're a co-signer on a loan), then the debt can force you into bankruptcy.
If your spouse files for bankruptcy and you have a joint debt, it doesn't mean you'll need to file, too. However, if your spouse's debts are discharged in bankruptcy (meaning they're wiped out), it may make sense for you to file for bankruptcy as well, so that you can get rid of your debts. Otherwise, creditors can pursue you for repayment.
If you're not sure whether you're legally responsible for your spouse's debt, or if the debt is considered joint or separate, it's a good idea to talk to a bankruptcy attorney. He or she can help you understand your rights and options.
What Can You Do to Protect Yourself?
There might be several things you can do to protect yourself from your spouse's debts. For example:
Check your credit report regularly and dispute any inaccurate information.
Keep track of all joint accounts and assets, so you know what is in your name and what isn't.
Consider opening up separate bank accounts and credit cards in your own name.
If you divorce or separate, make sure that all joint accounts are closed and that any debts are paid off before you sign over any assets to your spouse.
Keep good records of all financial transactions and contact a lawyer if you need any help navigating this tricky situation.
Finally, remember that it is never too late to take steps to protect your financial future. This is true regardless of the circumstances of your marriage or relationship. By taking proactive measures and seeking legal assistance when necessary, you can reduce the risk of being left with someone else's debts.
Am I Responsible for My Spouse's Debt in Florida?
Maybe. If your spouse accumulates a lot of debt and you're concerned about your current financial situation, it helps to speak to a professional for guidance. To learn more, contact the Law Offices of Robert M. Geller at 813-254-5696 to schedule a free consultation.