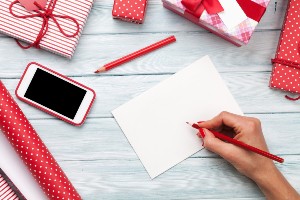 Have you begun making your Christmas card list yet? Did you include your bankruptcy attorney in Tampa, Florida?
It seems like a funny question, but many people considering bankruptcy don't realize what a valuable asset an attorney is for them.
Working with a bankruptcy attorney in Tampa, Florida increases the chance your case will go smoothly and you'll get the relief you need for a fresh financial start.
Your bankruptcy attorney is a vital asset and helps you manage your case and avoid problems. The holidays are a great time of year to reach out and thank the person who helped you file your bankruptcy case.
Most people considering bankruptcy already know how important it is to work with an attorney. But like most things, there are always a few ambitious people who want to attempt the complicated process of filing for bankruptcy on their own. For some, it's a matter of saving money. For others, their independent spirit inspires a false sense of confidence.
It's true, you can file for bankruptcy without the assistance of a bankruptcy attorney, but should you? In just about every case, the answer is "no."
How can working with a bankruptcy attorney make your life easier?
1. Simplifies a Complex Process
As you might have guessed, the process of filing for bankruptcy is complicated. Any time the court system is involved, you can assume there will be a lot of paperwork and red tape. Even a simple mistake can lead to weeks of confusion. Even honest mistakes can lead to the dismissal of your case. In worst cases, you could face accusations of fraud, even if you never intended to do anything wrong.
Working with a bankruptcy attorney in Tampa, Florida means you'll have an experienced professional there for you "dotting the I's and crossing the T's" of all of your bankruptcy documents.
Your bankruptcy attorney will:
Help you create schedules and complete paperwork
Offer guidance and insight regarding what to expect at every step of the way
Handle negotiations and compliance issues with creditors
2. Offers Personalized Support and Service
It's tempting to work with so-called preparation services when filing for bankruptcy. At first glance, their rates are affordable. They fill out your paperwork for you, but they don't offer much else. What they provide is the same for all clients and you shouldn't expect any customized treatment when working with these organizations.
Working with a bankruptcy attorney in Tampa, Florida means you'll have someone there when you need them. They'll address your case personally and ensure that you feel confident and that you understand how filing for bankruptcy will affect your specific financial situation.
3. Helps You Prepare for the Future
An experienced bankruptcy attorney will not only help you improve your current financial status. They'll also help you bridge your way to a brighter financial future. Working with an attorney ensures protection for all of your assets eligible for exemption. You'll receive the debt discharges needed to relieve your financial stress.
They'll also provide information and guidance concerning your credit score. You'll get out from under the crushing debt you're under now and set yourself up for a bright financial future.
To learn more about what it takes to improve your credit score, check out this information from Experian.
A Bankruptcy Attorney in Tampa Florida Can Help You Turn Your Life Around
Your bankruptcy attorney is one of your most valuable assets when it comes to dealing with your finances. Even people who were initially reluctant to invest in an attorney are thrilled they did once their case is complete. And in most cases, they'd love to hear from clients about how they helped them improve their financial situation.
If you're thinking about who to add to your Christmas card list, you should most certainly include your bankruptcy attorney in Tampa, Florida. The holidays are a great time to recognize someone that has played such a vital role in turning your financial situation around.
To learn more about bankruptcy or to get started filing, contact the Law Office of Robert M. Geller at 813-254-5696 to discuss your financial situation.